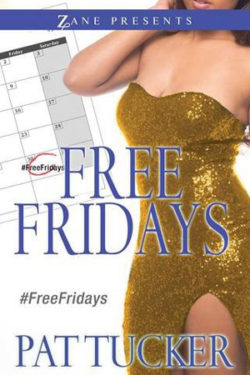 Author

Pat Tucker

Release Date

July 12, 2016

Publisher

Strebor Books

ISBN/ASIN

9781593095901

Our Rating

Reviewed by

Michele Rioli
Our Review
Pat Tucker's new book, FREE FRIDAYS, is about that plateau of comfortableness among married couples that peaks around the seventh year. Riley and Leela Franklin have reached that milestone, so they devise a fail-safe plan called FREE FRIDAYS to avoid splitting-up, as some wed couples do. The day is a free-for-all, where each spouse can do what they want or go anywhere and do anything without having to ask or check in with the other spouse. What will Riley and Leela decide to do first? It works swimmingly to start, but waters don't run smoothly in paradise forever, because trouble pops up big-time! 
FREE FRIDAYS is about love, American style, reminiscent of soap opera dramas. I don't want to say too much, but you can guess what happens in Leela and Riley's ho-hum marriage when they form a day of freedom. They each test the waters without the other spouse in attendance on Fridays. Emotions run high, definitely passions rule and jealousy is king. What develops is anybody's guess. I never read a story so fast! When all the drama unfolds, I was impatient to find out what happens in the end.
Ms. Tucker expertly tells a titillating tale destined for trouble. The story is realistically fashioned with undertones of discord rumbling just like in an actual marriage. Definitely thought provoking. FREE FRIDAYS is a crafty, compelling, and clever tale that will have you glued to the pages.