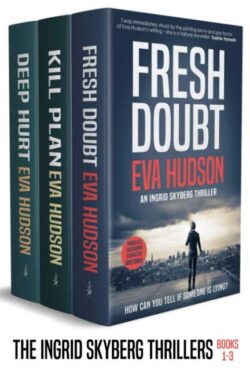 Author

Eva Hudson

Release Date

March 9, 2021

Publisher

Amazon

ISBN/ASIN

B08YK584CH

Our Rating

Reviewed by

book lover
Our Review
FRESH DOUBT by Eva Hudson, book one of The Ingrid Skyberg Thrillers, is set in London.
Lauren Shelbourne, a young college student in London, is found dead by her roommate and friend Madison Faber. Initially ruled as an accidental overdose, FBI agent Ingrid Skyberg, assigned by the US Embassy, is convinced this is more than an accidental overdose. As she digs deeper, she enters a world of deadly mind games as she hunts for the killer. 
Ingrid is driven by her past to keep digging, but the deeper she delves into the case, the more elaborate the lies become. When she uncovers a sinister experiment within the college psychology department, Ingrid is in far more danger than she realizes.
There is also a possible love interest with a Metropolitan Police detective—but Ingrid is engaged. I loved watching Ingrid waffle between her convenient engagement and the charming detective.
FRESH DOUBT is a suspenseful read that kept me up late turning pages. I recommend this book.