From Courtesan to Convenient Wife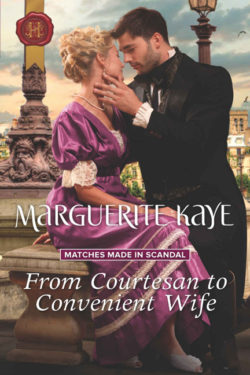 Author

Marguerite Kaye

Release Date

April 1, 2018

Publisher

Harlequin Historical

ISBN/ASIN

9781488086625

Our Rating

Reviewed by

Jo
Our Review
FROM COURTESAN TO CONVENIENT WIFE is the second book in the MATCHES MADE IN SCANDALS SERIES. This time the story is set in London and Paris in the early 1800's, and the Procurer once again has an important role. Sophia is laying low after a scandal that brings her unwanted attention, but the Procurer knows just how to make things better. Jean-Luc is a prominent wine merchant in Paris who needs a fake wife, and Sophia seems to fit the bill. There's a mystery to solve about Jean-Luc's family history that he didn't even know was in question. 
I loved the way both Sophia and Jean-Luc played their roles as husband and wife. As they are drawn to each other more and more, Sophia gets confused understanding what she really wants and inadvertently reveals a little of her past and family history in small doses. Jean-Luc never presses her, although discussing anything about her past was originally a deal breaker for her because she felt tarnished. As we get to know Sophia and Jean-Luc, their sweet kisses and chemistry heat up. I loved how they both embraced life and tried to focus on the positive.
The story is filled with scandal, family, and plenty of soirees. It's an emotional journey Sophia and Jean-Luc go through to find love. The characters had a depth to them, and the vivid descriptions of the setting made me feel like I was there. I loved how the author took us throughout Paris and the surrounding countryside. There is nice closure with the epilogue and a happily-ever-after that tied up loose ends.
Kaye has fast become one of my favorite authors. I look forward to reading the next two books in the series as well as other books she writes. The cover was beautifully done.  The two excerpts in the back of the book by other authors only whet my appetite for more!