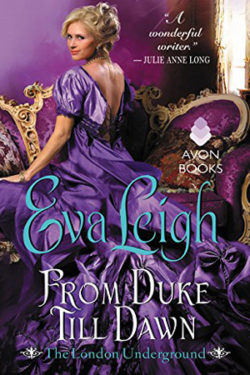 Author

Eva Leigh

Release Date

May 30, 2017

Publisher

Avon

ISBN/ASIN

978-0-06-249941-7

Our Rating

Reviewed by

Diana Mcc
Our Review
In her first book of The London Underground series, FROM DUKE TILL DAWN, Eva Leigh gives us a story that is hard to put down.
Alexander Lewis, Duke of Greyland, is one of the most powerful men in England, an honorable man bound by duty. The upper-class young woman he has arranged to marry jilts him, as she has fallen in love with a soldier.
Alex becomes pitied by his peers, and he won't stand for that. He changes from being reserved and uptight and follows the ill advice of his friends, going to a new gambling hall one night. There he comes face to face with Cassandra, the young, high-class widow who shared a night of passion with him two years before, only to vanish with some of his money and without a trace.
Cassandra Blake is not what Alex thinks. She is not well born–and that is only the beginning of the mysteries surrounding her. 
After Alex spots the "widow" he'd lost his heart to at the gambling hall, he finds out that everything he knew about Cassandra was a lie, and he vows revenge.
Now Cassandra is back in London and partnering with her mentor to run the gambling hall for a month, kind of like a pop-up store. The backers for the gambling hall are some of London's most unsavory characters. When Cassandra's partner and mentor absconds with all their profits, which includes payment owed the crime boss, she finds herself corralled by unsavory characters and has nowhere to run. She swallows her pride to beg for help from the one man who despises her for her dishonesty.
Alex agrees to help her as long as she doesn't leave his sight. Soon Cassandra is stealing again, but this time it's Alex's heart.
The journey that the author takes these characters on is engaging, dangerous, and the romantic tension heats up the pages.
Can they both put aside their prejudices about each other's classes and have a HEA? This is a page turner, and I highly recommend FROM DUKE TILL DAWN.