From Governess to Countess (Matches Made in Scandal)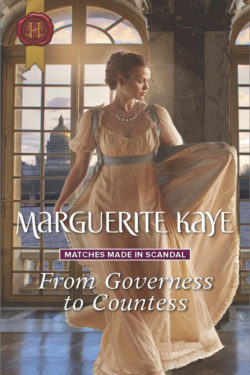 Author

Marguerite Kaye

Release Date

February 20, 2018

Publisher

Harlequin HIstorical

ISBN/ASIN

9781335051677

Our Rating

Reviewed by

Jo
Our Review
FROM GOVERNESS TO COUNTESS is the first book in the MATCHES MADE IN SCANDAL SERIES, and I look forward to reading more. Set in England and St. Petersburg, Russia, it has two stories to be told and melds nicely. The stories take place in the early 1800's.
When we first meet Allison, an herbalist, she is embroiled in a scandal made up of rumors that she did not fight against or state the facts even though a patient died. When she's given a second chance to do what she loves by the woman known as The Procurer, she jumps at it. 
The assignment takes her to Russia, where she becomes the governess to the late Duke's children, who don't immediately warm to her. Their uncle is their guardian but doesn't relish the role since he's an officer in the Russian army. There is immediate chemistry between Allison and Aleksei, even though they come from different backgrounds. He's royalty, and she's not anywhere close.
The descriptions of the children's home, the grounds, the gardens, and the surrounding areas made me feel that I was there. There is a nice flow to the story. Allison seems to know what Aleksei is thinking before he does. I liked that we got to know the characters a little at a time. There are steamy moments along with the growing romance, and the story is filled with society's protocols, herbal details, and emotion. The children and their dog are a nice addition to the story and add another layer. There is nice closure with the epilogue and a happily-ever-after.
Kaye is one of my go-to authors. I always enjoy her books and look forward to reading more of this series. I have others to add to my always growing TBR pile!