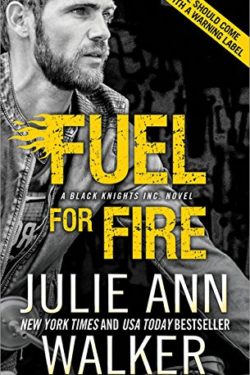 Author

Julie Ann Walker

Release Date

July 4, 2017

Publisher

Sourcebooks

ISBN/ASIN

1492608785

Our Rating

Reviewed by

Raonaid
Our Review
Former CIA agent Dagan Zoelner works as a cover operator for Black Knights Inc, a covert government defense firm. He and three other operators accompany Chelsea to England to investigate the lead on the enigmatic Spider's identity. Dagan dislikes Chelsea working undercover. When Chelsea's cover is blown, Dagan swoops in to save her from the bad guys. While on the run, she reveals a terrible secret that threatens their blossoming relationship. Will Dagan keep Chelsea safe until they reach US soil? Can Dagan forgive Chelsea for her role in his expulsion from the CIA?
Chelsea Duvall is a counter intelligence analyst for the Central Intelligence Agency. She works as the official liaison between the CIA and the Black Knight Inc. Chelsea infiltrates a powerful media mogul's inner sanctum to search for evidence linking him to the disreputable Spider. She soon finds her cover blown and is on the run. Chelsea relies on Dagan Zoelner's expertise to evade the mogul's murderous henchman. Will Chelsea finally come clean to Dagan about the terrible secret she has kept since their CIA days?
I have a fascination for unique and uncommon names, and Dagan's first name fits right into that appeal. I often wonder about its correct pronunciation. Dagan is a man who has never forgotten the many mistakes of his past. They always remain forefront in his mind, and being a part of the Black Knights gives Dagan the opportunity to atone for his sins. I adore a man who finds a woman's intelligence attractive rather than off putting. But what I love the most about Dagan is his overbearing protectiveness towards Chelsea.
Chelsea is a woman after my own heart. She clearly loves high/epic fantasy movies and books from the many references she uses throughout the book. I adore the fact that Chelsea is a full-figured, glasses-wearing woman. I honestly cannot remember the last book I have read with such a heroine. In some ways, Chelsea reminds me of a toned-down Penelope Garcia in the suspense TV series Criminal Minds, especially her sassy demeanor around the hot men in Black Knights Inc.
FUEL FOR FIRE is book ten in Julie Ann Walker's popular romantic suspense series, BLACK KNIGHTS INC. I have been anticipating Dagan and Chelsea's book since her appearance in book six, HELL FOR LEATHER. The story can stand alone, but to understand the couple's fun chemistry and the series' back plot, reading the prior nine books is necessary.
FUEL FOR FIRE is a spellbinding story of two people overcoming their past sins to act on their mutual attraction. I like how the author cleverly set-the-stage for the next couple in the upcoming book. I hope Julie Ann Walker considers writing a full-length book for Rusty and Ace.
RECOMMENDED READ