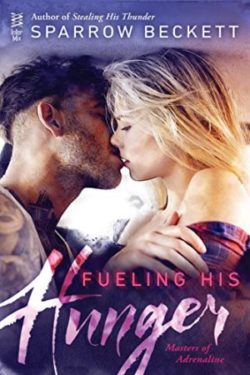 Author

Sparrow Beckett

Release Date

Publisher

InterMix

ISBN/ASIN

B01B2EAJMQ

Our Rating

Reviewed by

Chrissy
Our Review
Ophelia Covington has lived a party girl lifestyle – but her father's unexpected death has left her reeling. She inherited his company but knows next to nothing about running the business and her mother is putting pressure on her to sell it.  Alcohol has allowed her a bit of an escape from her responsibilities.  However, her decision to sleep off her latest binge in the back of her SUV leads to her being kidnapped (along with her car) and some major life changes she hadn't anticipated.
Luke Larson thinks nothing of accepting a dare and stealing a car from an upscale neighborhood. After all, stealing cars is a family business.  What he doesn't expect is to end up babysitting a passed out young woman until she's recovered enough to get herself home.  Luke can't deny that Ophelia is extremely attracted and obviously submissive.  This is a huge turn on for him.  When she decides to visit one of her father's hotels he chooses to accompany her and during the course of their adventure they get to know each other while reveling in their mutual sexual desires.  However, at some point they have to go home, and they come from very different backgrounds.  Is there any hope that they'll find a way to merge their lifestyles?
The writing team of Sparrow Beckett gives readers a rush with their MASTERS OF ADRENALINE series. With the series second release, FUELING HIS HUNGER, you're submerged a little bit further into the dangerous world of car thieves and are fully able to appreciate why women would fall in love with them.  If you go by appearance alone then Luke and Ophelia seem like an extremely unlikely couple but get to know them better and you realize that they're perfect together.   I adored Ophelia's determination to do what she felt was right despite her mother's attempts at browbeating her into obeying her wishes – and loved how Luke supported her in any decision she made.  He was there for her in every supportive way possible – definitely sigh worthy while still maintaining a bad ass persona. 
I genuinely enjoyed the first two titles in the MASTERS OF ADRENALINE series and can't wait for the next one, PUSHING HER LIMITS, to be released.
MASTERS OF ADRENALINE series:
STEALING HIS THUNDER
FUELING HIS HUNGER
PUSHING HER LIMITS – releasing December 2016