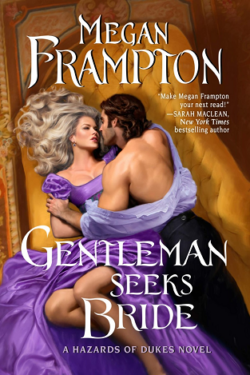 Author

Megan Frampton

Release Date

November 30, 2021

Publisher

Avon

ISBN/ASIN

9780063023109/‎B08XQPHPHS

Our Rating

Reviewed by

Michele Rioli
Our Review
GENTLEMAN SEEKS BRIDE is a saucy, delicious romance novel starring a devilish, dashing man, Thomas Sharpe, who searches for a rich bride to boost his sad state of affairs with his homestead. He goes to London to woo an heiress. Will he succeed?
Lady Jane Capel is a beautiful lady who is need of lessons from a man. Unfortunately, she was jilted by her betrothed and disowned by her family. Currently, she resides with her half-brother. She is inexperienced in love and needs help. She meets Thomas and they make an agreement to help each other out. Secretly, Thomas makes Jane's heart race. Is it possible she can guard her heart while he teaches her the wiles of men? Just being near him melts her insides. Oh boy, she is in trouble now!
Thomas is enjoying Jane's company. He is helping her overcome her shyness and opening up her world to flirting and come hither looks. Jane's willingness to try new things has captured his heart. Could it be that Jane is perfect for him?
GENTLEMAN SEEKS BRIDE is the fourth book in the Hazards Of Dukes series. It is extremely steamy, exciting and satisfying. Who doesn't love a good romance novel that stars a good looking man seeking a wife? This story could be likened to skinny-dipping in a cool pond on a hot summer day with its risque, quite frisky plot. I was surprised by Ms. Frampton's covert adventures in the male department. This was an eye opener for sure! The sexy advances between Jane and Thomas are delicious. This story is not for the faint hearted! The whole plot is genuinely intriguing and wonderfully empowering. Jane learns how to be a seductive woman with help from a decidedly virile man. I was constantly fanning myself from the hot love scenes. GENTLEMAN SEEKS BRIDE is not to be missed!