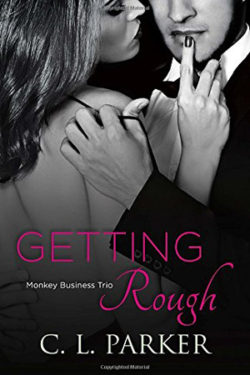 Author

C. L. Parker

Release Date

January 26, 2016

Publisher

Bantam

ISBN/ASIN

978-1101882962

Our Rating

Reviewed by

AngelaG
Our Review
In GETTING ROUGH, C.L. Parker's second book in the Monkey Business Trio, Shaw Matthews is angry. He landed the sports star who promoted him to partner, but only because Cassidy Whalen turned down the prospect. He has pushed himself and busted his butt to be the best in sports agent in the business, and knowing that he only got the player and partnership because Cassidy felt sorry for him has left him feeling angry and wanting to have it out with Cassidy. The problem is that she has run from him, so he's heading to Stonington, Maine to have it out.
Cassidy had everything that she worked so hard for in the palm of her hands, as well as some of the hottest sex she has every had with Shaw. Then a call from home sends her into a tailspin. She'll give up what she's coveted so that she can help her parents run their inn while her mother is in the hospital. Coming back home to Stonington also helps her to get over the lust/hate thing she has with Shaw. However, when he follows her, she knows she's in for a fight and that Shaw is going to make her pay in the most pleasurable way possible.
But the past and the present collide when Cassidy's ex-boyfriend and childhood friend, Casey, decides he wants another chance with her. Cassidy is torn between the safety that Casey provides and the fiery passion that Shaw represents. When it seems that Casey is spending a little too much time with the romance writer who is basing a book on Casey's profession, Cassidy lets jealously have free reign. Yet when disaster strikes and a life is put in danger, Cassidy no longer is feeling torn. Her decision has been made, and both men will have to deal with her decision whether they want to or not.
The second book in the Monkey Business Trio, GETTING ROUGH, is a very sensually charged and carnal ride. I liked the story, but it did fall flat at times, and I had a hard time liking the main characters until further along in the story. I really didn't like Cassidy until she pulled up her big girl panties and made a decision on who she wanted, but I will admit that it would be a hard decision for many women. I started out thinking Shaw was a spoiled and egotistical jerk, but he started to grow on me the further I read. I would recommend reading the stories in order for the back story on the characters.  
What stood out for me in the book were the secondary characters. I loved the secondary story that happened in the book, and the cliffhanger was a little funny to me after reading the story. All in all, GETTING ROUGH was an enjoyable story, and I will definitely read the final book in this trilogy to see what happens to all of the characters.