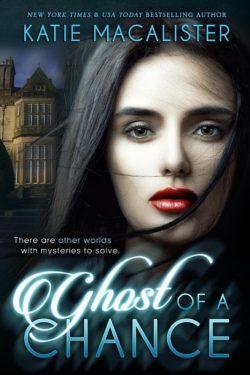 Author

Katie MacAlister

Release Date

June 26, 2016

Publisher

Racing Pigeon Productions

ISBN/ASIN

B01GP206GY

Our Rating

Reviewed by

Raonaid
Our Review
Karma Marx is half poltergeist and half human. She grudgingly works for the Akashic League, an organization that governs Otherworldly beings, as an exorcist-slash-exterminator. Karma agrees to exorcise her husband's latest house only if he agrees to a divorce. If that is not bad enough, she finds herself the temporary guardian to a moody, teenage poltergeist girl. Karma faces yet another obstacle after arriving at the house: Adam Dirgesinger, the house's previous owner. When her husband ends up dead, she assists Adam in ferreting out who the murderer is. During the harrowing, twelve-hour investigation, unexpected truths and secrets are revealed.
Adam Dirgesinger is an old, third-generation orthodox poltergeist. He is a U.S. Marshal in the mundane world and also, a member of the Watch, an Otherworld version of the police, for the Akashic League. After ten days away, Adam returns home only to find he lost his house to a smarmy real estate agent. Adam decides to take matters into his hand and seals the house, with all its current occupants, for twelve hours when Karma's husband refuses to cooperate. Much to his annoyance, someone murders Spider Marx, and the Watch issues Adam the order to determine who the murderer is before the seal ends. He trusts Karma to assist in the investigation. Adam learns much about each person within his house and the true villainy of Spider Marx.
Karma is an easy heroine to like and empathize with. I admire how she accepts her dual heritage and acknowledges the limitations of her duo bloodlines. I am curious about the mysterious power that Karma fears so much and I hope the author plans to have Karma explore and understand that power in future books. I applaud Karma's innate compassion towards others, both otherworld and mortal, how instead of exterminating she chooses to relocate the harmless creatures. I also like how, after some goading from her father, Karma stands up to her husband and his underhanded methods.
Adam, in his exasperated grumpiness, is such a fun and amusing character. I could not help but like, and fall, for his straight-laced type of charm. I admire the lengths Adam was willing to go to right the wrong done to him and to protect the charges beneath his care. However, what I love the most about Adam, is that he never once treated Karma like the rest of the Akashic League did, instead, he saw Karma's true worth beneath the many complicated layers. Adam interacted with Karma as if she was an equal, not a pariah.
GHOST OF A CHANCE is book one in Katie MacAlister's paranormal mystery series, KARMA MARX. I really enjoy the unique and ingenious concept of the author's supernatural world, the many different types of otherworldly creatures she used other than the same ones commonly found in the paranormal genre. I especially like the creative license Katie MacAlister took with the poltergeists, making their species her own.
GHOST OF A CHANCE is an entertaining paranormal mystery with some humor added into the mixture. The story made me laugh often and just feel good inside. I hope this is not the last escapade of Karma, her little imps, the name-changing Pixie, and Adam Dirgesinger. Mostly, I am curious if there is a potential romance blooming between Karma and Adam.