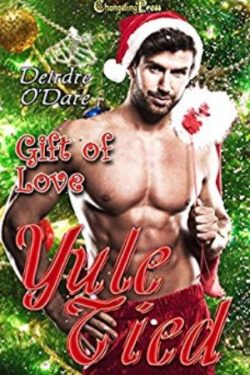 Author

Deidre O'Dare

Release Date

December 2, 2016

Publisher

Changeling Press

ISBN/ASIN

07881-02543

Our Rating

Reviewed by

Chrissy Dionne
Our Review
Rob was grateful when he was taken in by Daniel, the self-proclaimed leader of the local Wiccan coven. He'd been living on the streets and thought he'd finally found a place where he belongs but it seems nothing he ever does is good enough for Daniel.  Is Rob just a screw up?  Can Daniel be right and Rob's truly unworthy of praise or gentleness? 
Since the death of his parents Sean's ignored his Wiccan upbringing but when he spots a flyer about a local meeting he decides to attend and sets his sights on Rob. Rob's gentle nature and desire to please others draws Sean to him and finds himself wanting to get to know the other man much better. 
Since Rob's already involved with Daniel, friendship is a good place to start, but when Daniel's controlling and overbearing attitude causes the group to revolt Sean steps in to ensure that Rob is safe – and hopefully he'll be able to show Rob that there's more to a relationship than cruelty and domination.
Every year Changeling Press comes out with a line of Christmas/holiday based novellas, this year it's called YULE TIED.   GIFT OF LOVE by Deidre O'Dare is the sixth title to be released in the series and at only 53 pages it's a relatively quick read with plenty of sexual tension, friendship, a power hungry leader, and a prime example of what a BDSM relationship should not be.  It's obvious that Sean and Rob would be great together but there are extenuating circumstances that have to be dealt with first so it was interesting to see how that played out.
The Changeling Press Christmas/Holiday line has become something I look forward to each year. There are always surprising treats in the stories – in past years I've found myself chuckling at some of the unexpected storylines and I'm sure this year will be no different.  This is the first title I've read from this year's lineup (but I have the other available titles on the iPad right now all ready for my reading pleasure tonight.)
Other titles in the YULE TIED line:
SANTA'S REJECT by Lila Vega
CANDY CANED by Kiernan Kelly
OOPS! By Anne Kane
MISTLETOE AND MASKS by Angela Knight
REGIFTED by BJ McCall
GIFT OF A LIFETIME by Ana Raine
Y'ALL TIED UP by Crymsyn Hart
RIBBONS AND BOWS by Marteeka Karland
UNDER THE MISTLETOE by Saloni Quinby
VISIONS OF SUGARPLUM by Sara Jay
CHRISTMAS PARTY by Shelby Morgen