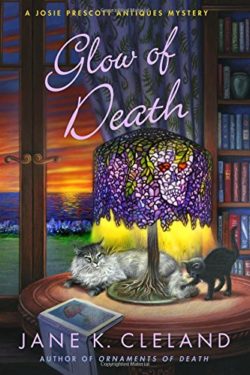 Author

Jane K. Cleland

Release Date

November 29, 2016

Publisher

St. Martin's

ISBN/ASIN

9781250102973

Our Rating

Reviewed by

Diana S
Our Review
Josie Prescott has been asked to visit the home of a wealthy couple to authenticate and appraise a Tiffany lamp in their possession. Josie is the CEO of Prescott's Antiques and is thrilled to have the chance to meet the Towsons and find out the history of the lamp.
Josie and her neighbor Police Chief Ellis Hunter are making food on the fourth of July when he receives a phone call from his office. Being the Police Chief of Rocky Point, New Hampshire, means he is never off duty much. He is told Ava Towson has been murdered and being unable to reach Mr. Towson, Ellis asks Josie to go along with him to ID the body. Much to Josie's disbelief the woman who was killed is not the woman Josie talked to about the lamp and had posed as Ava Towson.
This is a cunning tale of murder, deception and greed. Josie uses her talent as an antiques expert to assist the police chief in finding clues about the deaths of two women and the theft of the original Tiffany lamp which has been replaced with a fake lamp.
This is the first book I have read by Jane K. Cleland but it won't be the last. She puts her knowledge of antiques, as a former antique dealer, to good use in the explanations of how to authenticate an antique and by explaining the complex world of antiques the world over. Anyone who loves a good mystery and the ins and outs of antique dealing will get a kick out of this book.