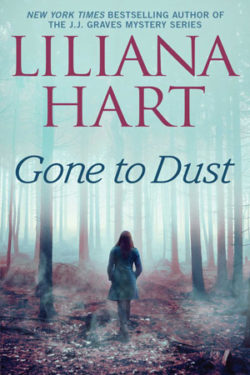 Author

Liliana Hart

Release Date

June 20, 2017

Publisher

Pocket Books

ISBN/ASIN

B01MG7LHW8

Our Rating

Reviewed by

BPoston
Our Review
In Liliana Hart's GONE TO DUST, Miller Darling is a very successful romance writer who does not believe in romance. She is passionate about her writing but thinks the whole happily-ever-after thing is a crock. Her parents followed their own passions searching for historical artifacts, which left them with little time for their two children. This meant Miller was raised by her older brother.  
Elias Cole is dead. Well, he is technically dead to his family, friends, and fellow soldiers he served with overseas. While serving as a Navy SEAL, he was accused of something he did not do and was given the choice of either going to prison for the rest of his life or "dying"– so he can serve his country by performing extreme covert work that isn't talked about or acknowledged by the government. It really wasn't much of a choice. He does his job, but his ultimate goal is to bring down those who set him up and clear his name, even if it results in his actually dying.
Miller hasn't heard from her brother in a while, believing he is on the same mission her parents were on, which ultimately lead to their deaths in a plane crash. However, she receives a package indicating he has been captured, and his life is being threatened unless she deciphers coded information his captors believe she has. She needs help and needs it fast.
Miller knows there is more to Elias than someone who works at a cemetery. They have have crossed paths before. There was an instant attraction between them, but he walked away without a word or explanation. He cannot risk getting involved with her since he is pursuing those who destroyed his life. However, when he learns her brother has disappeared, her house broken in to, and someone has tried to abduct her, he can't help but get involved.  
GONE TO DUST is the story of two people who struggle with trying to get through each day. Miller is quirky, funny and just plain delightful. She will risk everything to find her brother. Elias has been through so much but he is at a cross roads. He can either pursue his vengeance or follow his heart pursuing Miller. There is action/adventure and some very steamy love scenes. This was a great read and is the second book in The Gravedigger series. I thoroughly enjoyed it and can't wait to read the next book.
A RECOMMENDED READ