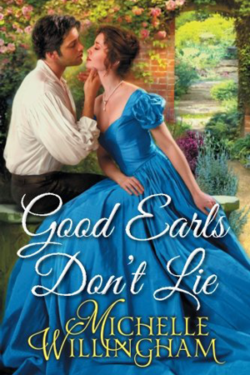 Author

Michelle Willingham

Release Date

September 27, 2016

Publisher

Montlake Romance

ISBN/ASIN

1503939766

Our Rating

Reviewed by

Dottie
Our Review
Although Irishman Iain Donovan's older brother visited England quite often with their mother, Iain has never been there. He never understood his mother's hatred for him or her reasons for leaving him at home. Even now that his brother has died and Iain is the Earl of Ashton, she still will have nothing to do with him. But his estate in Ireland is impoverished and his people are starving, so it is imperative that Iain travel to England in answer to the invitation sent by Lady Wolcroft, who has offered to help him find a bride.
On the way to Lady Wolcroft's country estate, Iain is set upon, knocked unconscious and awakens to discover that much of his clothing, as well as his horse, signet ring and the letter of invitation are missing. He knows that anyone seeing him now will not believe that he is an earl. Still, he is determined to find a way out of this situation. After all, he also has his sisters to consider, no matter how his mother feels about him. They need husbands and as earl, he is responsible for the girls. As Iain approaches Lady Wolcroft's estate on foot, he sees a beautiful young lady who is attempting to stand. Seeing that she is unable to walk but is still trying, he cannot help admiring her courage and determination.
When Lady Rose Thornton sees the half-naked man, she believes she is seeing things. She is spellbound by his presence, but when he claims to be an earl, she finds it impossible to believe. Despite his claims that her grandmother invited him for a visit, the lady in question cannot corroborate his story since Lady Wolcroft is in Bath. An illness has left Rose unable to walk, but she is determined that one day she will not only walk, but also dance again. She refuses to return to London until then. So when Iain offers to help her to walk if she will help him find a suitable bride, she cannot refuse him.
As their tentative friendship evolves into so much more, rumors regarding Iain's birthright to the earldom, as well as his own feelings that he will only bring Rose misery, threaten any future they could have together. However, Rose believes in him and just being with her brings him out of his darkness. But does she love him enough to withstand the rumors and to return to Ireland by his side to help his people? Will the secrets from the past strip the earldom from him?
An intriguing tale, GOOD EARLS DON'T LIE, the first book in author Michelle Whittingham's EARLS NEXT DOOR series, is an emotion-packed, sexy historical romance. Set among the time of The Great Famine in Ireland with its disease and mass starvation, Ms. Whittingham brings the period to life with true historical fact woven within the fictional story. Although Rose lives in England, it was bad potatoes that gave her the illness that took away her ability to walk. But I could not help admiring her determination and struggles to learn to walk again. Iain is a true hero, staying by Rose's side and aware of her feelings as he helps her back on her feet again, even protecting her from outsiders. After Iain loses everything, including his servants who deserted him, he has a rough time convincing Rose of his true identity and even suffers some snubbing and crude remarks from certain members of Lady Wolcroft's staff.
I really enjoyed both characters and how their romance evolves out of friendship. There are also a lot of other issues in this story, including Rose's sister Lily's desperate love for a man who has disappeared, as well as their own brother who has not returned from overseas. Plus, there is the matter of Rose and Lily's mother and her invisible wolves.
This story, which can be read as a standalone, is a wonderful start to a promising series. I eagerly look forward to the next installment, WHAT THE EARL NEEDS, which is Lily's story. This series is a spin-off to Ms. Willingham's previous THE SECRET GARDEN collection. GOOD EARLS DON'T LIE is a must read for fans of historical romance!