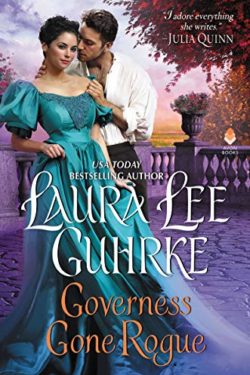 Author

Laura Lee Guhrke

Release Date

January 29, 2019

Publisher

Avon

ISBN/ASIN

9780062853691

Our Rating

Reviewed by

DianaMcc
Our Review
GOVERNESS GONE ROGUE by Laura Lee Guhrke is a great story. It is the third book in the "Dear Lady Truelove series". I love, love, love this book.
Motherless ten year old twins Owen and Colin Sinclair pen a letter to advice columnist Lady Truelove. They want a mother, and a wife for their widowed father.
Lord James St. Clair is at the newspaper office of his brother when the letter arrives. Not ready for a wife Lord St. Clair runs an ad to hire a tutor. The twins have run off every nanny he's hired with their pranks. A male tutor will surely keep them in line, and get them ready for boarding school.
Amanda Leighton, a school teacher who has been black balled from teaching because of an affair she had, desperately needs a job. She worked as a nanny after the school disaster, but found she was again at the mercy of the man of the house.
Because of the Regency times, she would not be hired as a tutor because she is female. She disguises herself as a man and is hired by James. The twins play a number of tricks on her trying to get her to leave. She doesn't leave. Instead she has them do menial chores for punishment, and the boys come to love having "Adam" as their tutor.
Once she is found out, quite far into the story, she and James find they have chemistry.
They had become friends as James and "Adam". It takes a bit, but James falls in love with Amanda. She has loved him silently for most of the book.
There is so much more to this story than I can possibly put here. Very sensuous in the last part of the book. Only one explicit love scene.
I really enjoyed the twins. Their creative tricks they played were awesome. Amanda and James were great characters. Wonderful story and I'd highly recommend GOVERNESS GONE ROGUE.