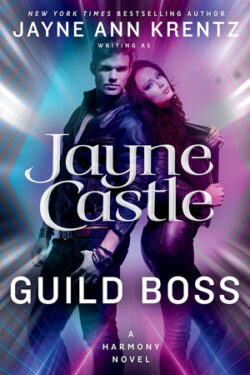 Author

Jayne Castle

Release Date

November 16, 2021

Publisher

Berkley

ISBN/ASIN

B08WR6BP64

Our Rating

Reviewed by

SJ
Our Review
Author Jayne Ann Krentz, writing as Jayne Castle, is back with a story set on Harmony, an alien planet, in Illusion Town, a city a lot like Las Vegas on Earth, in GUILD BOSS. Lucy Bell has been kidnapped, rescued, and then made to look a fool before she's kidnapped yet again! The cover of the tabloids, she's lost her reputation and is working by driving a tourist bus with her best pal Otis, a dust bunny. (Think ball of drier lint with six eyes and paws who links with his person.)

The story is a terrific return to romance, adventure, and mystery, with the perfect blend of all three. Gabriel Jones, yes one of those Joneses (Castle likes to write about the psychic Jones family in several of her books,) is the new Guild boss in town who's decided to help Lucy for reasons of his own.
The romance blossoming between the pair moves at a steady pace and is nicely guided by a romantic hero and a stubborn heroine with a lot of fight in her. I loved the pairing of these two, who play off each other nicely.
Solving the mystery of who was after Lucy in addition to a killer on the loose, Lucy and Gabriel work together to learn the truth. But can they do that before it's too late? Tons of fun for the scifi and mystery and romance reader, GUILD BOSS is a must-read! One-click your copy today!
A Recommended Read!