Hadley Beckett's Next Dish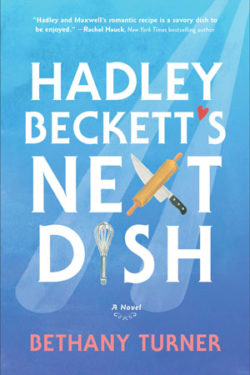 Author

Bethany Turner

Release Date

May 5, 2020

Publisher

Revell

ISBN/ASIN

9780800735234

Our Rating

Reviewed by

Michele Rioli
Our Review
HADLEY BECKETT'S NEXT DISH is a glimpse into a celebrity chef's fall from grace. Max Cavanaugh, a handsome, famous chef picks up the pieces of his life after a nasty public scene. His cooking show, To The Max, is on hiatus until he gets himself in balance. Meanwhile, Hadley Beckett, a charming, Southern chef, who has a hit cooking show, is picked to appear on a celebrated program about chefs. Although, there's a catch. She is to film it with Max. Heaven help her!
Granted, Max is a fantastic Michelin five-star rated cook, but they grate on each other's nerves. When they are together, smoke billows out, followed by fierce sparks. How will two opposing chefs team up to turn in a stellar performance for a hit show? Will they fry and burn or will they sizzle in the kitchen with sparks of another sort, like passion?
HADLEY BECKETT'S NEXT DISH is a saucy, delectable, rocky romance starring two famous chefs who learn how to compromise, cook together and more. The author is one smart cookie offering up a story starring reality cooking stars, since we all love to watch chefs cooking in the kitchen. I was tickled to see a sweet Southern belle sparring with a rakish, ruggedly handsome rogue known for his brusque manner. While they film a famous show together, they get close and personal. Pretty soon romance flies. Who knew that Hadley's honey personality would tame, tough as nails, Max? Really cute romance story that takes a left turn or two. I tell ya, I was super hungry while reading Ms. Turner's scrumptious book, because there are many delightful, delicious dishes made by Max and Hadley. This is one romance you won't want to miss! HADLEY BECKETT'S NEXT DISH is the crème de la crème!
Recommended Read