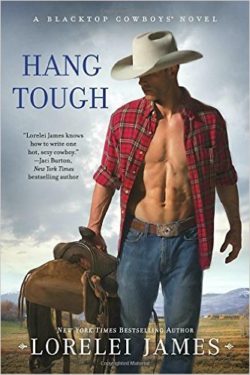 Author

Lorelei James

Release Date

November 1, 2016

Publisher

Berkley

ISBN/ASIN

B01Bk0sqfy

Our Rating

Reviewed by

Chrissy Dionne
Our Review
Tobin Hale has put aside his own plans to leave Muddy Gap and moved in with Garnett Evans , his favorite Mud Lily, to protect her from being ousted from her home by her own son. He's expecting a moving van to arrive, but what shows up instead wasn't anything like he expected – it's Garnett's granddaughter, Jade.  Jade loves her grandmother so when her father pointed out her odd behavior and asked Jade to go check on her she did so just to reassure herself that Garnett is okay.  She hadn't anticipated Tobin's presence and isn't at all happy that he's taking advantage of her beloved grandmother.  Of course she's got it all wrong but that doesn't stop the sparks from flying between them – both from sexual tension and animosity.  Garnett won't allow their bickering in her home and bans them from being together – of course that makes seeing each other all the more desirable.
Lorelei James' BLACKTOP COWBOYS just keeps getting better and better.   I've genuinely loved getting to know the characters throughout this series – laughed, cried, reminisced, and empathized through each new Muddy Gap adventure.  Garnett, and the Mud Lilies, have been a hilarious distraction from the romantic drama going on in the stories and I've really enjoyed their antics so I was more than a little shocked that Garnett's own son would dare to threaten his mother with being placed in a retirement community, however the results of such an insult are worth it in the end. Tobin and Jade are great characters who are struggling to find their own happiness in life and neither of them seems to know exactly how to find it – until defying Garnett's dictates leads them to discover  love and laughter where they last expected to find it. 
HANG TOUGH is a fun read that I couldn't put down and will definitely be reading any upcoming books in the BLACKTOP series. Now that being said, each book in the series can be read as a 'stand-alone' story so don't be afraid to pick up a copy of whichever book appeals to you and delve into the goings on in the Muddy Gap community.
BLACKTOP COWBOYS series:
CORRALLED
SADDLED AND SPURRED
WRANGLED AND TANGLED
ONE NIGHT RODEO
TURN AND BURN
HILLBILLY ROCKSTAR
ROPED IN (6.5)
STRIPPED DOWN (6.6)
WRAPPED AND STRAPPED
STRUNG UP (7.5)
HANG TOUGH