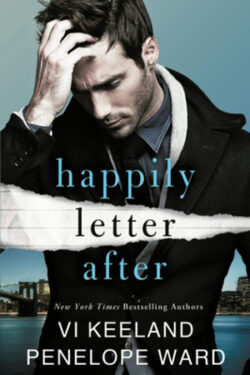 Our Review
​​​​​Who knew that a letter to Santa in the middle of June could bring true love for two very deserving people? HAPPILY LETTER AFTER does all that and more, along with an amazing epilogue. Coauthors Vi Keeland and Penelope Ward brilliantly combine a complicated yet delightful romance and emotional moments into this sexy narrative.
Sadie Bisset is single and loves her job as a journalist. She works for Modern Miss magazine and pens a weekly column about the New York City dating scene.
Needless to say, she dates a lot, and most of her suitors provide tons of comical material for her articles. She also spearheads the "Holiday Wishes" segment during the holiday season, where her employer grants a few requests. She takes it upon herself to grant a few anonymous wishes to a 10-year-old girl with a heart of gold, which quickly evolves into a relationship with both her dog and her father.
Italian restaurant owner Sebastian Maxwell lost his wife to cancer a few years ago. Since that time, he has worked very hard to be both mother and father to his daughter Birdie, while maintaining the excellent reputation of his restaurant. He mistakenly believes Sadie to be his new dog trainer, and once he learns the truth and gets over his anger, he realizes that Birdie and Sadie have formed a very special bond. Over time, both Sebastian and Birdie fall in love with Sadie.
This is a terrific book, and the authors pack a lot of humor into this ingenious love story. Sadie reminds me a bit of the Carrie character from the Sex and the City TV series. Both are smart, independent women searching for Mr. Right after achieving success in their careers. Sebastian is a sensitive man, believing that he is undeserving of a romantic future with anyone other than his late wife. Birdie is charming in every way, and her precociousness is endearing. If you enjoy a flirty romance that twists and turns in all the right places, then read this book.
Recommended Read