Happy Ever After in Christmas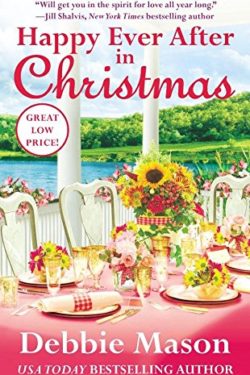 Author

Debbie Mason

Release Date

June 28, 2016

Publisher

Forever

ISBN/ASIN

1455537160

Our Rating

Reviewed by

Dottie
Our Review
With everyone around her falling in love, Deputy Jill Flaherty is approaching thirty and facing a life of spinsterhood. So she plans to take steps to make her dreams come true once and for all. Jill enjoys her job, but she longs for a husband and children. But there is only one man she wants to be tied to. Although Jill has been in love with Sawyer for years, he only sees her as his best friend Jack's sister and the girl who used to tag along after them, but she plans to change that.
Tired of the pro-rodeo circuit, bar owner Sawyer is trying to settle down in his hometown. He has a reputation as a player, but this only makes it harder to meet women in the small town of Christmas, Colorado. Sawyer is attracted to Jill, but, due to his reputation, Jack has made it plain that his sister is off-limits. Besides, she was like a little sister to Sawyer when she was growing up. However, when a sexy number in a red dress shows up in his bar one evening and plants a hot kiss on him, he is shocked to discover that the woman in question is Jill. Suddenly all bets are off as he finds the only woman he can think of is the woman he is not supposed to get involved with.
A feel good tale, HAPPY EVER AFTER IN CHRISTMAS, the seventh and final book in author Debbie Mason's CHRISTMAS, COLORADO series, is a witty, sexy contemporary romance that will steal your breath away. I have enjoyed this series immensely and really hate that this is the last book and the last chance to visit these delightful residents of an endearing small town. But Ms. Mason could not have chosen a better couple to end the storyline. Jill has a tough outer persona with a heart of gold and plenty of self-doubts while Sawyer has some qualms about commitment and is a bit clueless where Jill is concerned. They also have a history, but it is more that of siblings and their banter with each other proves it. However, this closeness only adds to their budding romance as their true feelings for each other are brought out into the open with the help of their family and friends.
Real life issues, small town dynamics, humor, a bit of mystery, a touch of angst and plenty of romance, this heartwarming story is one you won't want to miss. Although this book can easily be read as a standalone, I recommend going back and reading the previous six books first to gain more insight into the characters and background, which will only bring you additional enjoyment. HAPPY EVER AFTER IN CHRISTMAS is a novel you will want to read more than once. Take my advice and pick up a copy today! While you are at it, you may want to also pick up the previous novels in this collection; THE TROUBLE WITH CHRISTMAS, CHRISTMAS IN JULY, IT HAPPENED AT CHRISTMAS, WEDDING BELLS IN CHRISTMAS, SNOWBOUND IN CHRISTMAS and KISS ME IN CHRISTMAS. I also look forward to reading the first book in Ms. Mason's upcoming HARMONY HARBOR series entitled MISTLETOE COTTAGE, due out in late October 2016.