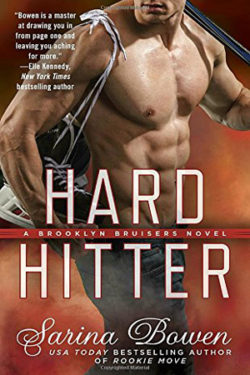 Author

Sarina Bowen

Release Date

January 3, 2017

Publisher

Berkley

ISBN/ASIN

978-0399583452

Our Rating

Reviewed by

Jill D
Our Review
HARD HITTER by Sarina Bowen is the second book in the Brooklyn Bruisers series by Sarina Bowen, and it's all about team captain–Patrick O'Doul–and the woman who captures his heart. While this is the second book in the series, it can be read as a stand-alone with minimal spoilers. This book picks up right where the last one left off: in mid-season with the Brooklyn Bruisers hoping to clench a spot in the playoffs.
Ariana Bettini is both the massage therapist and yoga instructor for the Brooklyn Bruisers. She spends her days not only stretching these athletes into downward dog and child's pose, but also treats muscle strains from collisions on the ice. Ari gets cooperation from almost all of the players except for the one that keeps blowing off his massage appointment.
Patrick O'Doul is the team captain and the only enforcer on the team. At thirty-two years old, he doesn't know how much longer he will be able to fight, since the brawls are really taking a toll on his body. O'Doul's hip is his current ailment and the reason the trainers are forcing him to submit to massage therapy when he has bailed on all his other appointments with Ari. Patrick doesn't necessarily dislike Ari, but it is not a situation he can control, therefore he tends to avoid it at all costs. Patrick learns pretty quickly that he benefits greatly from having Ari in his life both on and off the ice.
I loved the chemistry between Patrick and Ari and how it burned hot throughout the pages, regardless if they were friends or more. My most favorite thing about this book (or anytime I read a book by Sarina Bowen) is that I can literally hear the arena, the stick hit the puck, the skates on the ice, and everything hockey she describes so vividly, it's like I'm at the game. The next one in the series looks like it's also going to be great! 
For a terrific romance that will put you right on the ice, read Sarina Bowen's HARD HITTER.