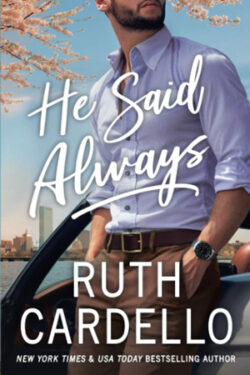 Author

Ruth Cardello

Release Date

May 25, 2021

Publisher

Montlake

ISBN/ASIN

9781542025232

Our Rating

Reviewed by

Jo
Our Review
HE SAID ALWAYS reconnects us with the Corisi and Romano families, and it was nice to see where their lives have taken them. This is Gian and Teagan's story, and it was hot from the moment they met. She doesn't know the real reason he or his niece ended up at her print shop, but she knows she doesn't like it since she has a lot of secrets to hide.
Gian and Teagan are good for each other. They give each other balance, answers when they have doubts, and are more alike than they realize. Their chemistry is off the charts, and she can hold her own with his family and even gets a different perspective on her own relationship with her parents.
The story has heartwarming moments as well as some deserved angst. I like that the story is told by Gian and Teagan in alternating chapters and how their trust builds slowly. HE SAID ALWAYS has a terrific HEA and nice closure. This is a sexy, lovely romance. I look forward to reading more books in this series.