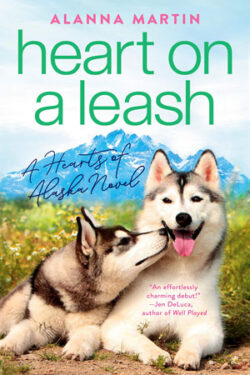 Author

Alanna Martin

Release Date

April 27, 2021

Publisher

Berkley

ISBN/ASIN

9780593198834

Our Rating

Reviewed by

Jo
Our Review
HEART ON A LEASH is the first book in the HEARTS OF ALASKA series, and I'm looking forward to returning to Helen, Alaska, many more times. Josh and Taylor don't know who the other is when they first meet, but there's definitely an attraction. That doesn't bode well since the Hatfield and McCoys have nothing on the feud between their families—that goes back a hundred years! (Meet some of the members of the Porter and the Lipin clans and see how down and dirty things can really get!)
The descriptions of Alaska made me feel like I was there and enriched the book. The characters have a depth to them. Josh and Taylor play nicely off each other. But when push comes to shove, thanks to their families, they have a lot of obstacles to overcome.
I loved how there were so many Huskies throughout the story and how Josh's three dogs were front and center through most of the book. I loved the cover (though I do wish there had been three dogs on it to reflect the story.)
HEART ON A LEASH is a delightful debut novel by Ms. Martin, and I'm looking forward to reading the next book in the series, PAWS AND PREJUDICE. There's an excerpt from it in the back of the book, and it left me wanting more. I look forward to reading other books penned my this author.