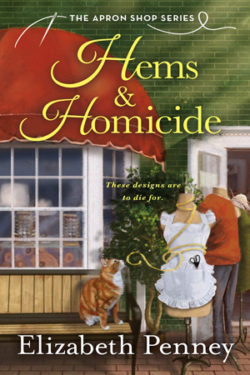 Author

Elizabeth Penney

Release Date

December 31, 2019

Publisher

St. Martin's

ISBN/ASIN

9781250257956

Our Rating

Reviewed by

book lover
Our Review
HEMS AND HOMICIDE by Elizabeth Penney is a cozy mystery and the first in the Apron Shop Series. It's set in Blueberry Cove, Maine. Iris Buckley returns to her hometown of Blueberry Cove to help out her widowed grandmother. She and her grandmother, Anne, are taking Iris's online handmade apron designs to a brick and mortar store, Ruffles and Bows.
The ink is still wet on the lease to the downtown store they rented when Iris stumbles down the basement stairs, crashes into shelves, and unearths a body. It just so happens the skeletal remains are of a woman her grandmother knew back in the 70s. 
The storefront is cordoned off as a crime scene and two days later reopened. Before they can start the renovations, a second body is discovered—their landlord. Anne, who discovers the body, becomes a suspect when the police learn she threatened the latest murder victim after he pressured her to sell her land to him.
To clear her grandmother, Iris begins to search for the real killer, enlisting the help of her friends. It's a fun cozy mystery with several quirky characters, a touch of romance with hunky contractor Ian Stewart, and a guard cat named Quincy. A really fun read.