Her Christmas Wish (Crooked Halo Christmas Chronicles Book 2)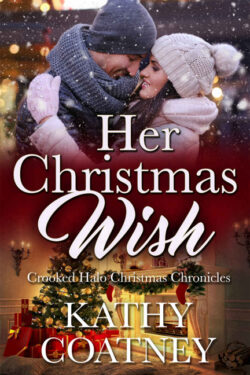 Author

Kathy Coatney

Release Date

September 29, 2020

Publisher

Windtree Press

ISBN/ASIN

B08KGWN2XM

Our Rating

Reviewed by

Jo
Our Review
HER CHRISTMAS WISH was a quick read at less than one hundred pages and is filled with a lot of holiday spirit—once Bella gets hers back! Though this is a contemporary romance, angels do help out the main couple, though I wouldn't necessarily classify this as a paranormal. It's a Christmas romance and full of fun and emotion.
Though this is the second book in the CROOKED HALO CHRISTMAS CHRONICLES series, it stands on its own. It was nice to be back with angels Aurora, Olivia, and Zack. Olivia and Zack had a history together on Earth which continues to cause conflict. But they have to work together to bring Bella and Matt together.
A bad breakup two years ago at Christmas, when her husband left her, has left Bella wanting nothing to do with men, love, or the holiday. Her small town of Hope's Crossing embraces everything Christmas, so it's hard for her to get away from all the festivities.
Matt's younger sister and the other children are a nice addition to the story. Bella's aunts and cousins also round out the story nicely. There are several story lines going on as we learn about the characters and their pasts. The descriptions of all the festive activities made me feel like I was there. There was nice closure with an unexpected ending that left me wanting more. The cover is spot on and really sets the mood for Christmas.
I look forward to reading the next book in the series, especially after reading the preview in the back of the book. There is a preview of SHE'S OUT OF HIS LEAGUE, which is also set in Hope's Crossing, and I look forward to reading it as well.
Ms. Coatney is an author who writes contemporary romances with strong family connections. I look forward to reading more of her books even those with some paranormal elements thrown in.