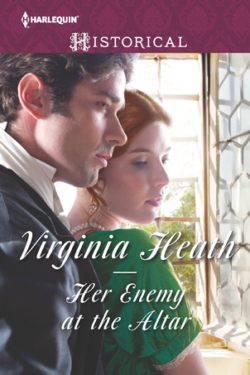 Author

Virginia Heath

Release Date

July 19, 2016

Publisher

Harlequin Historical

ISBN/ASIN

9780373307449

Our Rating

Reviewed by

Jo
Our Review
This book is an historical fiction and is a quick read with lots of turmoil and angst.  Set in London and England in 1815 it is Aaron and Constance's story.  Their families whom live on neighboring farms have been involved in a feud for three hundred years.  When Aaron unintentionally compromises Connie things go from bad to worse especially since they have an audience.  The things said by both their fathers were truly caustic and heartbreaking.  When Aaron asks for her hand in marriage to avoid Connie being thrown on the street for her actions by her father no one is more surprised than the two of them.  Although they tend not to be very civil to each other there is something definitely going on between them but one or the other always sabotages their feelings in the end.
Watching their many steps back and one step forward approach was heartwrenching especially when there are glimpses of how good they can be together.  Aaron and Connie both have many layers to them and we get to know them a little at a time. Connie has a heart of gold that not many get to see but it shines through in her careful and safe handling of Aaron and his father who is dying.  Aaron also tries to do the right thing but they both are always second guessing themselves which doesn't make their interactions go smoothly. There are family and friends, vileness, scandal, barbs, evil, thievery, farms, tenants, horses, parties, food, nightmares, solace, fear, memories of the war, laughter, happiness, teamwork, secrets, loving and love.  There is nice closure and a comeuppance for one of the characters plus an unexpected happily ever after.
Heath is a new author and I previously read THAT DESPICABLE ROGUE and enjoyed it. When she asked if I'd like to read and review this book I jumped at the chance.  I look forward to reading her next book, THE DISCERNING GENTLEMAN'S GUIDE.