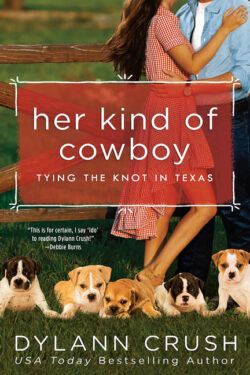 Author

Dylann Crush

Release Date

January 12, 2021

Publisher

Berkley Books

ISBN/ASIN

9780593101667

Our Rating

Reviewed by

Jo
Our Review
It was fun to be back in Ido, Texas, which changed its name from Idont to become a small town, over-the-top wedding venue. HER KIND OF COWBOY is the second book in the TYING THE KNOT IN TEXAS series, and it doesn't disappoint. There are characters we've met before, along with new ones who add another dimension to the story. The rescue dogs, the bird that is secretly brought everywhere, and the penguins that are going to be part of a winter wonderland themed wedding in the heat of Texas are wonderful!
When the mayor is sidelined during the latest spectacular wedding to take place, her best friend, Zina, and Alex, who wanted to bring the wedding to Ido (and who will be handling the penguins), take charge. Alex's grandfather, sister, and his sister's four daughters are involved, as is Zina's brother, who has PTSD issues. The interactions between the family members feel real and add to the authenticity of the story.
There are sparks between Zina and Alex that they try to fight. He's always in the right place to be helpful with her rescue dogs, and his grandfather being around so much activity gives the old man a new lease on life. The story has wonderful interactions between family and friends, and the romance is lovely.  An excerpt in the back of the book introduces the next book in the series, CRAZY ABOUT A COWBOY, and whet my appetite for more.  I can't wait to return to Ido and see who says "I do" next!
Ms. Crush is a contemporary romance author whose books I've enjoyed. I have added a few more of her books to my always growing TBR pile!