Her Texas New Year's Wish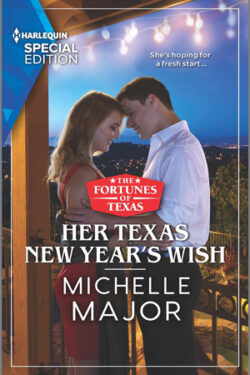 Author

Michelle Major

Release Date

January 1, 2021

Publisher

Harlequin Special Edition

ISBN/ASIN

9781488075216

Our Rating

Reviewed by

Jo
Our Review
HER TEXAS NEW YEAR'S WISH is the first book in the FORTUNES OF TEXAS: THE HOTEL FORTUNE series. There are other FORTUNES OF TEXAS books that are in various series, but they're written by different authors (which makes it hard for me to keep track of the books in the series and I've only read one or two others as a result.)
The story has likable siblings in the Fortune family, and many are involved in opening a hotel and partnering with other businesses in the small town of Rambling Rose, Texas.  When oldest brother Wiley is home for a visit from his high powered job as an attorney in Chicago, things don't go as planned. He finds himself attracted to a woman who happens to be interning at the hotel. He doesn't do serious and usually calls all the shots when dating. When she unexpectedly gets hurt on the premises, Wiley seems more than a bit concerned. We get to know him and Grace a little at a time but seem to only scratch the surface since they often have problems communicating.
The story has a nice flow, and it was interesting to see both Wiley and Grace out of their comfort zones. Of course, since Grace is an employee and Wiley has a reputation as a playboy, his siblings don't know why he's so interested in being the one in contact with Grace (while she recuperates but also works from home.) Romance is definitely in the air!
A fun romance, but the book ended too abruptly for me. An epilogue would have been nice to solidify the happily-ever-after, but that may be taking place in the next book in the series. I always enjoy Harlequin books since they bring some nostalgia into my life since they are one of the first types of romances I read when I was younger but have come a long way since then.