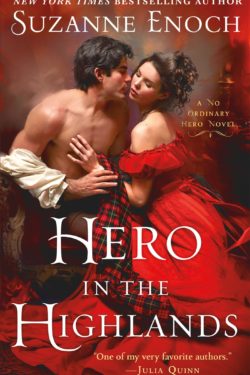 Author

Suzanne Enoch

Release Date

October 4, 2016

Publisher

St. Martin's Press

ISBN/ASIN

1250095417

Our Rating

Reviewed by

Dottie
Our Review
Major Gabriel Forrester thrives on the battlefield and is always in the midst of the action. His wartime antics have earned him the nickname The Beast of Bussao. When an ancient uncle passes away, Gabriel is unhappy to discover he has inherited the title of Duke of Lattimer. Forced to leave the battlefield to take on his new responsibilities, Gabriel promises himself that he will only ensure that everything is thriving on the three estates he inherited and then he will return to battle. However, there seems to be a problem with an estate located in Scotland. The steward there has refused the many requests for the financial paperwork to be submitted. So Gabriel travels to Scotland with his aid-de-camp. But as he arrives he finds a beautiful, dark-eyed lass in the mud, attempting to rescue a cow. As he stops to help, the last thing he expects to discover is that this young lady is his steward.
For the past four years, Fiona Blackstock has acted as steward for her people on the Lattimer estate. Many years ago this land had belonged to her clan, but it is now in English hands. She is determined to drive this new duke, who is too handsome for her peace of mind, back to England. But amid an uneasy friendship, passion ensues. When accidents start occurring, many of the clan blame an old curse for these happenings. As Gabriel and Fiona dig in, side-by-side, to uncover the real culprit, Gabriel realizes that he wants nothing more than to keep her with him always. Will he give up the idea of returning to battle, or will he walk away from the woman he loves? Who is behind all the accidents?
New York Times and USA Today bestselling author Suzanne Enoch has penned another winner with the first book in her new NO ORDINARY HERO series. A witty, sexy tale, her latest historical romance will have you laughing out loud at some of the antics Fiona concocts to get rid of the Englishman, so she can get back to being the steward for the estate. Fiona hates the English and determines early on not to like Gabriel, despite her attraction to him. She wants the best for her people and doesn't feel that he is it. But before long she begins to realize that he is not at all what she expects him to be as she slowly begins to lose her heart to him. Gabriel has no clue about being a duke, but fortunately he has his aid-de-camp to help him. A straightforward man, Gabriel finds Fiona's ability to stand up to him refreshing and even listens when she makes a suggestion, a trait she admires in him.
Together they tackle the question of the missing sheep and some other sabotage in the area.
There was one drawback in this story. Fiona has some modern day traits that would have made her quite scandalous in this time period. There is also the fact that Gabriel, a duke, is marrying this Scottish woman who is not in his social class. But since he is such an unusual duke, who until just recently was a soldier, I found this plausible. Overall, I found this story very entertaining and cannot wait to read the next installment to this delightful series.
A battle of wills, snappy repartee, humor, passion, a Scottish setting, a bit of mystery, romance and true love combine to give fans of historical and Scottish romance an unforgettable story.