Hidden Cove (Solace Island Series)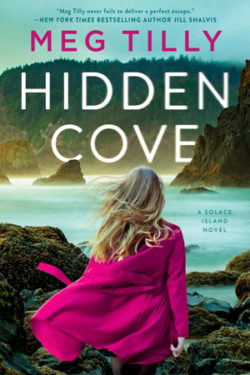 Author

Meg Tilly

Release Date

October 1, 2019

Publisher

Berkley Books

ISBN/ASIN

9780440000563

Our Rating

Reviewed by

Jo
Our Review
Ms. Tilly had my heart racing and palms sweating to see what would happen next in this installment of her SOLACE ISLAND series. (HIDDEN COVE can be read as a stand-alone story but is enriched when read as part of the series.)
HIDDEN COVE did not disappoint as we return for the third time to small town Solace Island. The small art gallery run by Zeila has some bad vibes when one of her good friends across the country, who also owns an art gallery, is found dead of a supposed drug overdose. Although the police rule it a suicide, Zeila isn't convinced and draws her new friend, Gabe (whom she just met on the island and who writes crime fiction) into helping her uncover the truth. Could it be murder?  
The story takes place in the states of Washington, Connecticut, and New York City and is fast-paced and full of surprises. The plot took twists and turns with one storyline crazier than the next. Gabe's parents, who come to Solace Island and hope to get him married off so they can become grandparents, added often needed comic relief. There are a multitude of characters who add layers to the story.
The scenic descriptions are vivid, and the interactions between the characters feel real.  There are some steamy moments as well. The story ties up nicely, though there are a few loose ends that could return us to Solace Island. At least, I hope so.
I've enjoyed Ms. Tilly's SOLACE ISLAND series and look forward to reading more of her books.