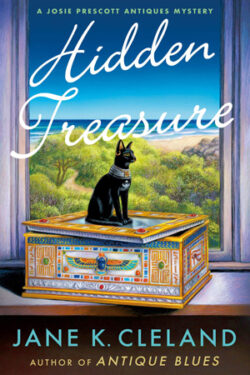 Author

Jane K. Cleland

Release Date

December 8, 2020

Publisher

Minotaur Books

ISBN/ASIN

9781250242778/B084M1Z66Z

Our Rating

Reviewed by

Michele Rioli
Our Review
HIDDEN TREASURE is a complicated, cozy mystery oozing with suspense, intrigue and conniving characters in the Josie Prescott Antiques mystery series. This time around Josie and her new hubby Ty just bought a new house situated along the picturesque New Hampshire coast. It's a wonderful house full of charm and character. However, Josie is contacted by the nieces of the former owner, elderly Maudie Wilson, that she left behind an antique trunk. She wonders where it could be?
Josie stumbles upon it in a concealed dumbwaiter and contacts Maudie to meet with her at the assisted living facility where her two nieces moved her to. Maudie and Josie click immediately as friends and spend time together. Josie offers to appraise the trunk and its contents and offers a list of other appraisers as well. When Josie returns to Maudie's apartment with the box, Maudie is missing and a woman is lying dead on the floor. Josie is shocked to the core! Who killed her and why? Is the killer lying in wait to get Josie as well?
HIDDEN TREASURE is a beguiling, murder mystery buzzing with escapades, beguiling plot twists, and more! The writing style flows smoothly and the book is an easy read. The author is super talented in her descriptive writing and pulled me in from the very beginning. The mystery is extremely well plotted and kept me guessing! Josie won't give up investigating what happened to Maudie and the murdered woman, and finds out some really fascinating stuff. Josie receives help from many surprising sources to the receptionist at the assisted living facility, Maudie's nieces, employees working for Josie, and many others. Are they friend or foe? Josie sticks her nose in places where she shouldn't, and steps into terrible trouble. Absolutely loved this novel by Ms. Cleland, that boasts fabulous characters and clever dialogue. A winning combination! HIDDEN TREASURE is a genuine gem!
Recommended Read