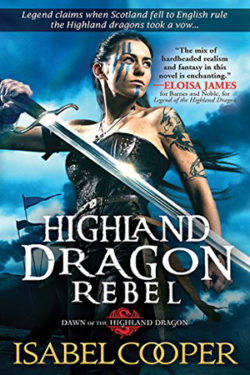 Author

Isabel Cooper

Release Date

November 7, 2017

Publisher

Sourcebooks

ISBN/ASIN

9781492632061

Our Rating

Reviewed by

Raonaid
Our Review
Madoc of Avondos undertakes a challenging quest to form alliances to preserve a future against English tyranny. He entrusts his protection to Moiread MacAlasdair from the assassins, whose main objection is keeping the Welsh wizard from completing his mission. At each destination of power, Madoc performs the necessary rituals with the land's overseers to solidify an alliance. As the journey progresses, he learns more about his fascinating company. Will Madoc cast off his responsibilities to have a future with Moiread? Or will he ignore his feelings for Moiread to safeguard his people?
Moiread MacAlasdair is a Scottish-born dragon-shifter. She returns home from the war against the English only to leave again as a Welsh wizard's bodyguard. Moiread uses a spell of illusion to cloak herself as a young squire. The assassins challenge her combat experience. Their relationship slowly deepens on the journey. Can Moiread keep Madoc safe throughout their difficult journey? Will she be able to leave him once the quest is complete?
Madoc is an easy hero to like. I like his congenial disposition. He is neither alpha nor beta, but a perfect in-between. It is a nice change of pace from overly arrogant hero-types. I love how Madoc's confidence in his abilities did not come across as vain or over-confident. But what I like the most about Madoc is how he is not intimidated by Moiread's combat skills or her dragon but accepts both.
I always adore Gaelic names, and I wonder about the correct pronunciation of Moiread. Moiread is a strong-willed woman who is comfortable in her own skin. She is not afraid to lead her people in battle against their foes. I love the role reversal where a woman is the warrior in the story instead of the man. I enjoy the easy camaraderie between Moiread and Madoc. It made their transition into lovers believable.
HIGHLAND DRAGON REBEL is book two in Isabel Cooper's paranormal-historical series, DAWN OF THE HIGHLAND DRAGON. Unfortunately, I have not read the first book, and I sometimes felt as if I missed important information. Other than that, the story can easily stand alone. I adore the author's usage of historic Celtic names I have not seen outside of research books.
HIGHLAND DRAGON REBEL is a story of two unlikely beings embarking on an important mission and falling in love along the way. I like how the author created her own otherworldly race instead of using the Tuatha De Danann or any other Celtic supernatural races.