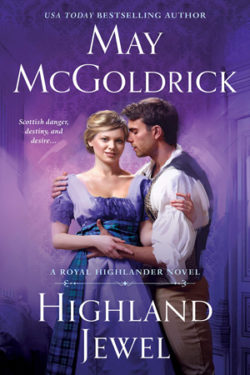 Author

May McGoldrick

Release Date

September 24, 2019

Publisher

St. Martin's

ISBN/ASIN

978-1250317278

Our Rating

Reviewed by

Dorine
Our Review
HIGHLAND JEWEL by May McGoldrick is an exciting addition to their ROYAL HIGHLANDER series. Fans will appreciate meeting the next heroine in this series (and getting to know her very well) before they read HIGHLAND SWORD.
This novel begins with reflection from the future queen in the prologue as her young son is taken from her. Her life isn't her own and never has been, directed by those who want the power her marriage to the prince will give them. Her son's story, told in HIGHLAND CROWN, crosses paths with the characters in this one. Its timeline is slightly behind the first book, then catching up toward the end.
For this reason, I highly recommend that you read HIGHLAND CROWN first before you read this newest book, HIGHLAND JEWEL. You'll understand the intrigue and dangers much better with that first book's introduction to the players in this web of deceit.
The first chapter of this book gives the reader a glimpse at what will transpire later in the story. It's well done, setting intrigue, but it did confuse me a bit when the second chapter starts eight months earlier. There are also some characters from the first book who are obviously different from what I remembered. That's because of the timeline crossover between books. We're looking back in time in this book prior to the first book's events. I didn't get that until much later, so I feel strongly that even I would have benefited from reading the first book again before this one.
For that reason, I'm not going to say much about this story. I don't want to spoil either adventure for you, and I can't really say much without doing that for one book or the other.
HIGHLAND JEWEL is complicated and enthralling. I loved Maisie and Niall from first meeting them on the page. Maisie is a strong rebel, fighting for a cause she believes in along with Niall's sister, Fiona. A large portion of this novel is focused on the strong women who fought for reform.
Niall is a commanding warrior who is ready to live a quiet life with Maisie. He should know that quiet and Maisie will never go together. The poor man is smitten, and then tortured for it. I loved how their love story circled around through events in history. Their romance is far from easy.
Morrigan is Maisie's annoying sister by marriage. She made me laugh, and I can't wait for her story next. She grows up in this novel and becomes someone whose antics are joyfully anticipated in the future HIGHLAND SWORD.
In comparing the two books to each other, HIGHLAND CROWN is my favorite. Both stories are engaging for different reasons. HIGHLAND CROWN had a swashbuckling flare to it, and Cinaed's family history is intriguing. Whereas I was especially fond of the way the women were portrayed in HIGHLAND JEWEL. Their involvement in protest is a key factor in pulling the plot forward. It's unusual and made Maisie more interesting than most historical heroines.
On the other hand, HIGHLAND JEWEL has one pivotal plot revelation that I felt was too abrupt. It needed a prelude or something to remind the reader what happened in book one. I felt something was off as I was reading, which wouldn't have happened if I had read the books back-to-back. I'm not sure how the authors could have finessed this better, but it jarred me.
Even with that mild criticism, I can't help but be fascinated with this series' timeline crossover. It's a feat worthy of commendation on the authors' behalf. I can't imagine the planning and double-checking involved in bringing both stories to print.
What I have enjoyed most about this series is how beautifully fiction and fact are combined to artfully depict a captivating story.
HIGHLAND JEWEL has characters who engage the readers' hopes and dreams for a well-deserved, if sometimes rocky, journey to happy-ever-after. I don't think any of us will be sure of their success until reading the next novel, HIGHLAND SWORD. But that's the best part. Anticipation for the next book as you close the pages of the current one makes this reader crazy and happy all at once. Don't miss this fun historical adventure series!