His Pretend Amish Bride (Unexpected Amish Blessings Book 2)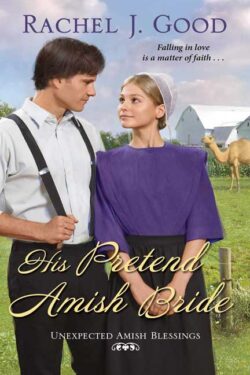 Author

Rachel J. Good

Release Date

June 30, 2020

Publisher

Zebra

ISBN/ASIN

9781420150452

Our Rating

Reviewed by

Jo
Our Review
HIS PRETEND AMISH BRIDE is by one of my favorite authors of Amish fiction, Rachel J. Good, and she didn't disappoint. This is the second book in the UNEXPECTED AMISH BLESSINGS series, and I'm looking forward to reading more. There is a preview for the next book in the series, HIS ACCIDENTAL AMISH FAMILY, and I can't wait!
Priscilla is a hard worker, an assistant teacher at an Amish special needs school. She also helps out at home with chores and assists Gabe, a camel farmer, in more ways than one since he is shy in groups and gets tongue-tied easily. Priscilla always seems to be in the right place at the right time, and many outsiders think them husband and wife.
There are many plot lines going on at once, and the inclusion of the Englischer reporters and photographers adds a nice touch. The mystery regarding missing and tainted milk enriched the story. There is some closure and a lovely epilogue. It's nice to be back with some of the other characters we met in the first book in the series, HIS UNEXPECTED AMISH TWINS, as well as a return to the horse therapy farm run by Priscilla's friend. 
A wonderful read with a feel-good ending.