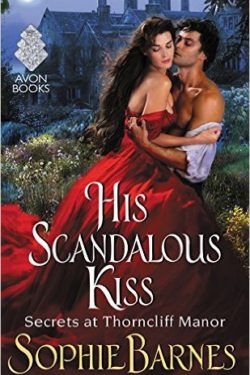 Author

Sophie Barnes

Release Date

July 26, 2016

Publisher

Avon

ISBN/ASIN

006235891X

Our Rating

Reviewed by

Dottie
Our Review
After being tortured and disfigured during the war, Richard Heartly has exiled himself for the past five years, only living to avenge a terrible betrayal. The only members of his family who know he is alive are his brother Spencer and their father. A masked ball at Thorncliff Manor gives Richard the opportunity to get out around people without being seen. It is only meant to be a temporary diversion, but, at the ball, he meets a delectable young lady who appears to be as captivated by the music as he is. She is the only one who seems to see right to the heart of him.
Lady Mary Bourneville is determined to live life on her own terms. She has no desire to wed and has been doing all she can to finance her older brother's life and to help him maintain his home. She has no intentions of kowtowing to a controlling family or a husband. She dazzles everyone at the ball, and, no longer a wallflower, she finds the suitors lining up – two, in particular, who have ulterior motives. But the only man whom Mary finds intriguing is the brooding, sexy man who remains hidden.
Continuing to meet clandestinely, the two begin to fall in love, although they don't even know each other's real names. To Mary, Richard is Signor Antonio and to him, she is Lady Eleanor, since she is dressed as Lady Eleanor of Aquitaine. But each one has another secret and when the truth comes to light, it might destroy any chance of a future together. Finally, when it comes down to a choice between her brother and Richard, which one will Mary choose?
An intriguing tale, HIS SCANDALOUS KISS, the third book in author Sophia Barnes' SECRETS AT THORNCLIFF MANOR series, is a witty, sexy historical romance that will captivate readers. Prior to the ball, neither one planned to wed. Mary could not see where the benefits of marriage would even rival her independence. Whereas, Richard did not believe any woman would ever want him now that he was so disfigured. Their interaction in this story is a delight.
Reminiscent of THE PHANTOM OF THE OPERA, the secrets, surprising twists and turns, betrayal, revenge, rumors of treasure, scandal, suspense, revelations, romance and true love in this story combine to make it truly unforgettable. This enticing story is sure to forge a longing in many of its readers for a more simplistic time before computers and cellphones, when books and music prevailed as entertainment. The masked ball at Thorncliff Manor, which is the perfect setting for mystery, intrigue and scandal, added to the allure.
HIS SCANDALOUS KISS can be read as a standalone, despite being part of a series. However, if you have not read the previous books in this series, I am sure that this book will whet your appetite for the rest, including LADY SARAH'S SINFUL DESIRES and THE EARL'S COMPLETE SURRENDER. Treat yourself to Ms. Barne's latest Regency installment and enter a world of intrigue, danger and passion that will keep you enthralled and highly entertained.