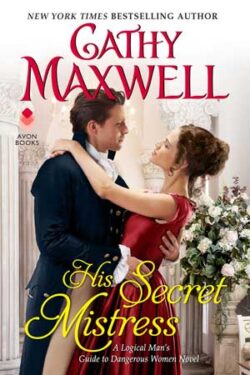 Author

Cathy Maxwell

Release Date

March 31, 2020

Publisher

Avon

ISBN/ASIN

978-0-06-289726-8

Our Rating

Reviewed by

Diana Mcc
Our Review
HIS SECRET MISTRESS by Cathy Maxwell is the first book in a planned trilogy. The series is called A Logical Man's Guide to Dangerous Women.
Brandon Balfour gave his heart to actress Kate Addison ten years ago. After their night of passion, each is deceived into believing the other has betrayed them.
Brokenhearted, Brandon leaves for India for ten years. Now he is back, a wealthy architect and engineer. Kate has her own traveling troop of actors. Her wagon breaks down on the grounds of the Duke of Winterton. The duke, Brandon's nephew (Brandon is his guardian), claims to be madly in love with the actress.
Brandon goes to talk with the actress and is shocked to find Kate—the woman he has pined for all these years. Unfortunately, the duke continues to pursue Kate and becomes a thorn in his uncle's side.
Kate and Brandon spar, neither willing to forgive, but still loving each other from a far. HIS SECRET MISTRESS is very sensual. This story is a love triangle, a second chance story with really interesting characters. Don't miss this engaging historical romance!

I enjoyed HIS SECRET MISTRESS.