His Unexpected Amish Twins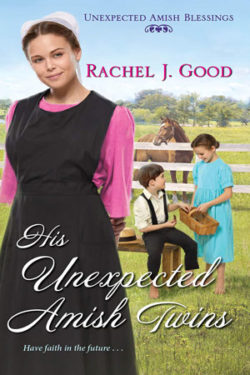 Author

Rachel J. Good

Release Date

February 25, 2020

Publisher

Zebra

ISBN/ASIN

9781420150421

Our Rating

Reviewed by

Jo
Our Review
HIS UNEXPECTED AMISH TWINS is the first book in the UNEXPECTED AMISH BLESSINGS series, and I can't wait to read more. The book is set mainly in Lancaster, Pennsylvania and is Micah and Hope's story. (Both Micah and Hope are Amish.) 

When Micah's brother and sister-in-law are killed in a buggy accident, he travels from New York state to Pennsylvania to take care of their twins, Jabin and Chloe,who are hospitalized. He also has to take care of the funeral and other necessities. He never expected that he would have to deal with so much, especially being so far from home.
The story deals with Micah's grief and how he interacts with more of the community. He and Hope, who came across the accident and stayed with the children when they went to the hospital, have an instant attraction. He is thankful for her caring enough to do so, and she doesn't understand why she's so attracted since she never plans to marry.
Hope's father is closely involved in the story, as are Micah's siblings who first brought them together. Hope is setting up her own business using horse therapy for children who need help healing, and the therapy sessions are woven into the story.
The story is filled with family, community, dealing with grief, and a chance at romance. The lengthy epilogue made me happy, and the book really satisfied on its happily ever after. An excerpt in the back of the book gives a hint of the next book in this series, HIS PRETEND AMISH BRIDE, that whet my appetite for more.
Ms. Good is one of my favorite authors of Amish stories. I look forward to reading many more of her books.