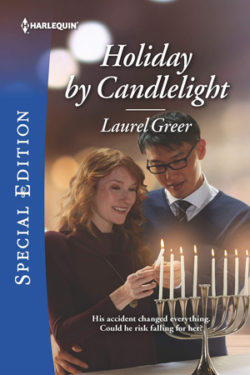 Author

Laurel Greer

Release Date

October 15, 2019

Publisher

Harlequin Special Edition

ISBN/ASIN

9781335574237

Our Rating

Reviewed by

Jo
Our Review
HOLIDAY BY CANDLELIGHT is the third book in the SUTTER CREEK, MONTANA series, and it was nice to be back on the mountains. While being reunited with other characters we've met, this is Caleb and Garnet's story.
Caleb was injured in an avalanche. While not practicing surgery anymore due to his injuries and PTSD( from the life changing event), he now works as a family physician after his moving to Montana. Garnet works in search and rescue as well as in the holistic heath center. When they are thrown together to plan a holiday party, there is definite attraction. But they have a difficult time communicating. Will they be able to get past their issues and work through their attraction?
Just when they think they are on the same page, something proves they're not. Caleb is part Japanese and Jewish and has a strong loving family back in New York. Garnet's parents are scientists and are not warm people. She's an only child, and often has difficulty acting in social situations.
HOLIDAY BY CANDLELIGHT is filled with lots of holiday cheer and festivities. The characters have a terrific depth to them, the scenery is vivid and winter-filled. And the romance is hot and steamy when the characters finally come together. The story has nice closure with the epilogue that takes place three months after the story ends. A fun holiday read to keep you warm through the holidays.
I look forward to reading more of Laurel Greer's books.