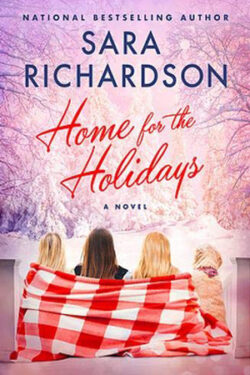 Author

Sara Richardson

Release Date

September 22, 2020

Publisher

Forever

ISBN/ASIN

9781538718216

Our Rating

Reviewed by

Jo
Our Review
HOME FOR THE HOLIDAYS really gets you in the holiday spirit as it reunites three sisters in Juniper Springs, a small town in the mountains of Colorado that holds a lot of memories for them. The story is told in alternating chapters by each of the three sisters: Dahlia, Magnolia and Rose.
The Juniper Inn is owned by their aunt, but she's been estranged from the family for many years. When she writes them each a letter asking them to spend one last Christmas with her, the sisters decide to go.
All three sisters have a lot going on in their lives, and none of them are currently happy.  But their aunt hopes their visit will change things for the better.  The author does a great job letting us get to know each sister, understanding their problems and dreams. The characters all have a depth to them, and seeing the inn through their eyes is magical. The romances that develop between the men in Juniper Springs and the sisters is done well.
Ms. Richardson is an author who writes romances with family and friends and strong women. I look forward to reading more of them.