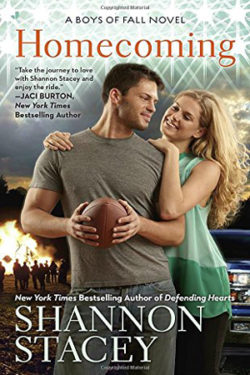 Author

Shannon Stacey

Release Date

August 30, 2016

Publisher

Jove

ISBN/ASIN

9780515155860

Our Rating

Reviewed by

Lil
Our Review
Fourteen Years ago, Sam Leavitt left Stewart Mills, NH and his terrible childhood in a dysfunctional family behind. But he left as a decent man thanks to Coach McDonnell.
Now it is Coach who needs him. After suffering a heart attack, the man who helped turn him around is recuperating and on medical leave. But the Stewart Mills High School football team needs a coach to lead them to the championship and Coach wants Sam to do it. After all, Sam had been the quarterback for Stewart Mills' first Championship win all those years ago.
Guidance counselor, Jen Cooper, knows that she and substitute coach, Sam, will be thrown together in the course of work. She has been trying to put their unexpected and not so distant steamy encounter out of her mind. Jen is looking for someone to settle down with, not just indulge in a fling. Of course, mutual attraction muddies the waters.
HOMECOMING is the third book in Shannon Stacey's A Boys of Fall trilogy. The first two books were UNDER THE LIGHTS and DEFENDING HEARTS. I hadn't been aware that I was jumping into the last of the series but found that it was fine as a standalone read.  The story itself remained mostly on the sweeter side, though there was a definite shot of heat. It takes its time to build up the setting and reveal the characters' histories so that readers won't feel jarred wading in.
This is my first Shannon Stacey story but it won't be my last. I found much to love in how she described the coziness of a small town with the deep friendships, community spirit, as well as the amusing lack of privacy. Sometimes an author can step over the line of the latter into caricature instead of close-knit, but this story kept the characters and interactions authentic instead of resorting only to quirky.
It was satisfying to see a hero, who had a rough time as a kid, be able to work his way up to accepting the attempts of his mom to make amends and to build a relationship with her. Between that and watching him try to be what he himself needed at that age to his team of boys, it was a very easy thing to fall in love with Sam.
Jen is a heroine built to care about people and to do it wholeheartedly. One doesn't step into her career to keep one's distance, and the way she is shown to do it in this setting made me smile. She gets involved, she supports, she empathizes–is there really any way the hero can resist?
The only thing that seemed a bit off was the apparent molehill of conflict that was made into a mountain. It felt contrived but was thankfully a brief span in the story itself.
HOMECOMING is a timely read with the fall season and football upon us. Weave those with bonds of family and friends, add a touch of spice to the romance, and it is perfect for a chilly evening with a mug of cinnamon-scented cider.