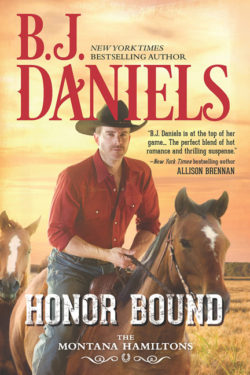 Author

BJ Daniels

Release Date

September 18, 2016

Publisher

HQN Books

ISBN/ASIN

978-0373789320

Our Rating

Reviewed by

B. Poston
Our Review
HONOR BOUND by B.J. Daniels is the 6th and final book in the Montana Hamilton Series. Wow. After a long journey (6 books), the background mystery surrounding the Hamilton family is finally known and resolved. While there are several story lines happening, this book focuses on the oldest Hamilton daughter, Ainsley. Her life is so crazy.
Her father is running for President of the United States. Her mother, who disappeared many years ago, was declared dead and has now mysteriously reappeared with no explanation of where she has been. Her five sisters all have different theories of what happened. One thinks she lost her memory in an accident. Another suspects she has been involved in criminal activity.
Ainsley has always been the responsible one in her family. As the eldest daughter, she pretty much raised her sisters until her father's marriage to a woman who was not interested in being a stepmother but rather, a trophy wife who thinks she would look good living in the White House. Ainsley works as a location scout for a production company making a commercial. Being away from the family drama is helping center her until she suspects someone might be stalking her. She is not absolutely certain of this and mentions this to family friend, Sheriff Frank, but with no evidence ends up deciding that because her life is so nuts, she is just imagining things.
Sawyer Nash is an FBI agent recovering from an injury. He is home on medical leave and it is driving him crazy. He is contacted by Sheriff Frank and asked to keep an eye on Ainsley. Thinking this will be an easy job, Sawyer goes to the production site and mistakenly gets hired on to work in the commercial. He goes looking for Ainsley and when told she is scouting a location, follows her and arrives just in time to prevent her from being crushed to death by falling rocks someone has kicked off a hillside above where she was standing.
The adventure really takes off from there. There are so many twists and turns. I found myself taking one path only to realize I was on the wrong course and had to change direction. This book series has everything–murder, mystery, political intrigue, and some good old fashioned romance. After reading the first book, WILD HORSES: THE MONTANA HAMILTONS, I had a hard time waiting for books 2 through 6 to be released so I could get all the puzzle pieces put together. This was a great read, and I encourage those who love mysteries to purchase the series. Hold on, because you are in for a great ride!