Hooked on You (The Chicago Rebels Series)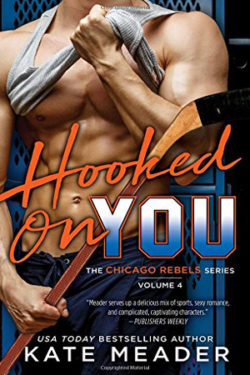 Author

Kate Meader

Release Date

May 29, 2018

Publisher

Pocket Books

ISBN/ASIN

9781501180903

Our Rating

Reviewed by

Jo
Our Review
HOOKED ON YOU is a nice addition to the CHICAGO REBELS series. It ties up loose ends nicely but still leaves me wanting more. I would love to revisit the team and the owners in a holiday novella (hint, hint)!
The prologue set the stage for what is Violet and Bren's story. He's the captain of the team and lucky to still be a part of it–with a chance to win the Stanley Cup–after some personal problems in the last season. He's a single dad currently to his two daughters, Cat and Franky, who keep him on his toes. I love his relationship with them, especially with all he does to win them back after he's battled the bottle.
Enter Violet, part owner of the hockey team with her two half sisters. She has her own demons to slay. I love Bren and Violet's relationship and how they help build each other up. They support each other…until they don't. Their feelings for each other definitely shine through, even when they don't want them to.
HOOKED ON YOU is full of family and friends, centered around the excitement of hockey. There are burn-up-the-sheets moments along with lots of dirty talk. The story has twists and turns, some expected, some not. There is a nice flow to the story and closure thanks to the epilogue, which takes place thirteen months later and lets us see how their lives are playing out.
Meader is an author who I enjoy reading. Her books definitely have a kick to them.  I look forward to reading more of her work in the future.