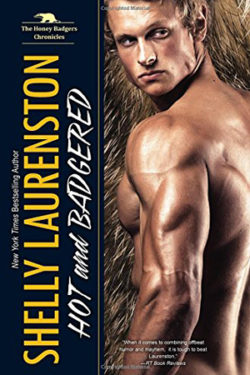 Author

Shelly Laurenston

Release Date

March 27, 2018

Publisher

Kensington

ISBN/ASIN

9781496714367

Our Rating

Reviewed by

SJ
Our Review
A return to the crazy shapeshifting world of Shelly Laurenston is always a welcome visit. In this quirky, funny, wild paranormal romance, the honey badgers are back! Laurenston is known for her humor, and it's there in abundance in HOT AND BADGERED. There's a glimpse of characters from older books, and it might be a little overwhelming for new readers to catch up, but the humor and action will keep the pages turning.
Charlie Taylor-MacKilligan is a hybrid, part honey badger, part wolf. She and her two half sisters, all related through their worthless father, are working hard not to get killed. Her younger sister is an anxiety-ridden genius who has dangerous meltdowns. Her middle sister is verging on sociopathic, and a hilarious addition to this kooky cast.
Charlie is the most normal and the most responsible, and the only one who can handle her father. When she and her sisters learn he's dead, she's ready to celebrate. But maybe that's not the actual truth, because the people after them seem to want something her father promised…
Berg, a sweet grizzly, and Berg's family and friends take it upon themselves to help Charlie and her kin, with hilarious results. Factions of shifters come together to deal with a new threat, and Charlie comes to some of her own realizations about what she wants…and how to handle a grizzly who clearly wants to handle her.
A funny, charming romp of a romance as only Laurenston can deliver. The relationship between Charlie and Berg builds, but it's the honey badgers who steal the show in this stellar romance from Shelly Laurenston. Pick up HOT AND BADGERED. It's a must-read.