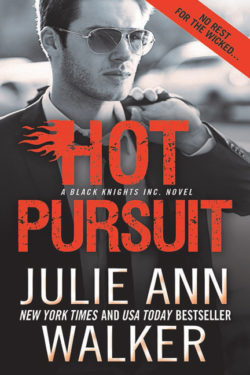 Author

Julie Ann Walker

Release Date

October 3, 2017

Publisher

Sourcebooks

ISBN/ASIN

B06X1B92NK

Our Rating

Reviewed by

Raonaid
Our Review
Former SAS officer Christian Watson works as an operator for Black Knights Inc. After their mission goes AWOL, he wants nothing more than to leave his homeland, but Christian's past foils his plans. What is worse, the bossy and vexing Emily Scott refuses to leave him alone until she learns his secrets. When their enemies threaten her, Christian decides to give into the inevitable. Can Christian manage to sway Emily's view on love? Or will his complicated past sabotage any chance for them?
Former CIA Emily Scott now works for Black Knights Inc. as their office manager. She vows never to form any personal relationships with any of her male co-workers. Christian Watson tempts Emily to break that vow. She joins the mission to keep the group organized and out of trouble. As their group eludes the men following them, she discovers the truth about the man beneath the designer clothes and sexy accent. Can Emily's heart survive a casual fling with Christian? Or will she want something more permanent?
Christian is such a sweetheart when the mood strikes him. Fate has dealt him a harsh hand, yet he continues to push forward despite all the obstacles in his way. I understand his driving desire to leave England posthaste. I absolutely adore his and Emily's ability to communicate with just their gazes. But what I love most about Christian is how he admires Emily's thoughtfulness towards everyone.
Emily is a woman after my own heart. She is not a girly-girl interested in the usual, stereotypical things most women like such as cosmetics or heels. Emily dons a tough persona to withstand her coworkers' alpha tendencies, however, the sass and toughness conceals a tender and thoughtful heart. I admire her ability to give as good as she gets with the infuriating males at Black Knights Inc. But what I like the most about Emily is her refusal to allow Christian to sink further into self-recrimination.
HOT PURSUIT is book eleven in Julie Ann Walker's popular romantic-suspense series, BLACK KNIGHTS INC. I have been eagerly anticipating this book since FUEL FOR FIRE, book ten. The story overlays the prior book's events, mostly when the group parts ways with Dagan and Chelsea.
HOT PURSUIT is an action-packed, thrilling ride between two damaged souls who realize exactly what is before their very eyes. I love how this book continues the budding chemistry erupting between Ace and Rusty. I secretly hope the author considers writing their book, and not consigning their relationship to the background.
A Recommended Read!