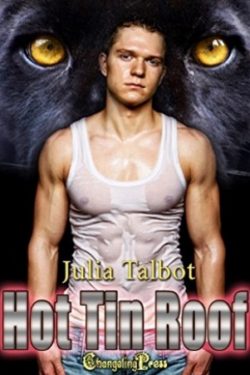 Author

Julia Talbot

Release Date

July 15, 2016

Publisher

Changeling Press

ISBN/ASIN

0775402501

Our Rating

Reviewed by

Chrissy
Our Review
Lynx shifter Aleks works as a stripper at the Hot Tin Roof in order to support himself. For him, it's a job and he never mixes business with pleasure.  Of course, that's easy to do when the clients are primarily woman and he prefers men.  However, his ethics are sorely tested when he's requested by a male client – one whose sex appeal is undeniably irresistible.  To complicate matters even more,  Rafe is also a shifter and has a commanding presence which draws Aleks to him emotionally.  Rafe can't deny his attraction to Aleks and he loves the submissiveness the other man displays, but he's not looking for a happily-ever-after and Aleks isn't willing to settle for less than a Master.  Can these two men come to some mutually satisfying understanding or will they choose to go their separate ways?
Julia Talbot's HOT TIN ROOF is a short read but that certainly doesn't detract from its heat level. The characters are genuinely likeable and display vulnerabilities that really endear them to the reader.  Aleks might be submissive but he isn't a doormat and Rafe, despite his obvious wealth, isn't used to being rejected because he can't (or won't) offer what his partner needs.  The dynamics between Aleks and Rafe is interesting enough but throw in their animalistic natures and their relationship becomes captivating.   I would have liked to get to know these characters a bit more so hopefully we'll see them in future titles in the FASTER BOBCAT SERIES.
HOT TIN ROOF is the first title in Julia Talbot's FASTER BOBCAT series. So far I'm not able to find anything about future titles in the series so fingers crossed that we won't be kept waiting long.