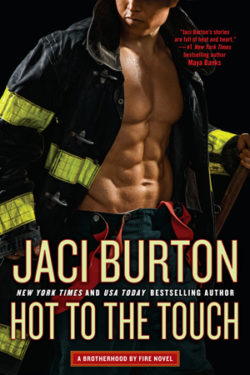 Author

Jaci Burton

Release Date

May 7, 2019

Publisher

Penguin

ISBN/ASIN

B07CWFH7JS

Our Rating

Reviewed by

BPoston
Our Review
Who doesn't love books about hot firemen? HOT TO TOUCH is the first book in a new trilogy by Jaci Burton. This first book focuses on firefighter Jackson Donovan, but we are also introduced to his firefighter brothers Rafe and Kal. All three brothers grew up on the streets until they were rescued by an amazing man who later adopted them.
Jackson doesn't get involved with women. He is not looking for any permanent type of hook up. The only people he will care about are his brothers and parents. He doesn't have room in his heart for anyone else. However, when his team fights a fire at local tattoo shop, he reconnects with former childhood friend Becks, a young woman who also lived on the streets.  
Becks's business burned down, and she has nowhere to go. Rafe and Kal offer to let her live at the home they share with Jackson until she gets back on her feet. They're thrilled to reconnect with their childhood friend. Jackson, on the other hand, is not a happy camper. He's attracted to Becks but likes his life the way it is.  
HOT TO TOUCH is a sizzling romance between two people fighting the inevitable.  Because of their pasts, both Jackson and Becks are afraid to dream of a future that won't suddenly be taken away from them. But the heart wants what the heart wants.  Will Jackson gather the courage to fight for the life he feels for Becks, or will he just run away?
Jaci Burton creates characters who are complex and humorous but who also have a lot of sexual tension between them. This is a great book, and I can't wait to read the next in the trilogy.
Recommended Read