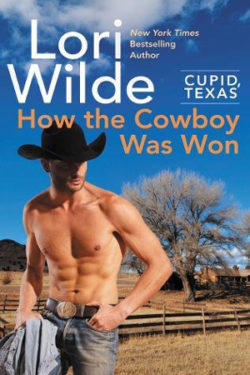 Author

Lori Wilde

Release Date

March 27, 2018

Publisher

Avon

ISBN/ASIN

B0713VYF5H

Our Rating

Reviewed by

BPoston
Our Review
In HOW THE COWBOY WAS WON, Lori Wilde takes us back to Cupid Texas, where previous novels she has written have taken place. Ember Alzate has had no luck in finding love for herself but has helped several friends find their perfect partner. Her family insists that when she finds "the one" she will know because there will be a mysterious humming in her head when they kiss. Well, so far, she has kissed many men but no humming yet.  She thinks her family is nuts.
Ranger Lockhart has returned home to Cupid, determined to get close to his best friend Ember. She is sassy and bold, and he absolutely adores her. However, she only sees him as a friend, and he wants something more. While trying to get her to see him as more than just a friend, he becomes frustrated when he realizes she is trying to fix him up with other women.
Ember wants her friend, Ranger, to settle down with the right woman and is determined to help him find "the one". Imagine her surprise when she kisses him and her head is filled with the strangest humming sound. Why is this happening now when she has found the perfect woman for him…and it is not her?
Ember and Ranger are a fun couple. I loved reading their story and enjoyed the trials and tribulations they go through trying to figure out a wonderful truth—that being best friends is just one part of an amazing relationship two people can have if they are willing to reach for the stars. What a nice, romantic read!