How to Find Love in a Bookshop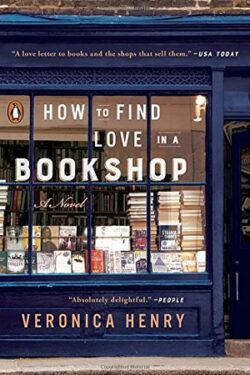 Author

Victoria Henry

Release Date

June 16, 2016

Publisher

Orion

ISBN/ASIN

B01N1IFW3G

Our Rating

Reviewed by

Book lover
Our Review
HOW TO FIND LOVE IN A BOOKSHOP by Veronica Henry is a story with multiple romances that includes the owner of the bookshop, Julius Nightingale, who has just died as the story opens.
We see Julius's love story with Rebecca, who died in childbirth, and how he came to raise Emilia, his daughter, on his own after purchasing Nightingale Books in the town of Peasebrook, England.
Besides Julius's love story, there are seven other love stories, one if which includes Emilia and Marlow. Each love story is tied to the bookshop, and each is sweet and tender. There are married couples that are struggling, first love, forbidden love, and unrequited love, but all were touched by Julius. Even in death, he brings them together.
Emilia has always been attracted to Marlow, but he's never showed any interest in her. But once her father dies, things change between them, and suddenly their feelings surface. The only catch is Marlow has a girlfriend.
I did get annoyed with Alice and Dillon. Alice is wealthy and engaged to a wealthy playboy, who's also using drugs. He treats Dillon poorly and takes her FOREVER to figure out that he is a jerk. But as the characters work their way through their romances, each one comes together and has a satisfying happily ever after.