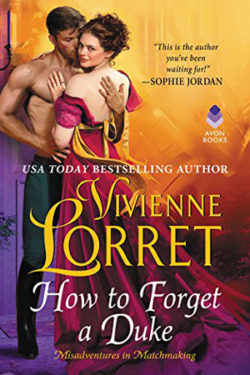 Author

Vivienne Lorret

Release Date

May 29, 2018

Publisher

Avon Books

ISBN/ASIN

9780062685483

Our Rating

Reviewed by

Michele Rioli
Our Review
Oh my, be still my beating heart, Jacinda Bourne thinks, as she meets the most striking man ever in the unforgettable story, HOW TO FORGET A DUKE, the debut novel in the MISADVENTURES IN MATCHMAKING series by Vivienne Lorret. Jacinda and her sisters work with their uncle at the Bourne Matrimonial Agency in London. Although, their golden rule is to never have relations with the client.
Only, Jacinda has a problem. After meeting the Duke of Rydstrom, a gruff, guarded, and good-looking man with oodles of charm, Jacinda is determined to discover his undisclosed life. In order for her to make the ideal match she needs to know his particulars. Only, Crispin clams up. He needs a bride with vast assets but won't share his likes or dislikes with Jacinda. So, what does the impulsive, persistent Jacinda do? She travels to Whitecrest, the duke's hometown, to uncover information about him. When Jacinda wakes up on a beach, soaked from head to toe with a huge bump on her forehead, she can't remember a thing, even her own name! What the heck happened?
The Duke of Rydstrom comes to the rescue! But, Crispin is livid. Why is the interfering Miss Bourne on his seashore? He might be captivated by the red-haired beauty but he finds keeping his heart closed to her is quite a challenge. The terms of his aunt's inheritance are quite clear, marry soon or else he won't inherit. How will he safeguard all that he holds dear, while Jacinda, the troublemaker, recuperates at his crumbling castle?
Jacinda doesn't remember a thing, so her attraction to the duke heats up. Crispin is forcefully willing himself to behave, making himself forget that a beautiful woman is just mere feet away from him. How will he ever find a bride, when Jacinda seems to undo everything he tries to hide from her? Will these two notice that maybe, they are the perfect match?
HOW TO FORGET A DUKE is a captivating, passionate, well-crafted historical romance novel. It stars an attractive, dynamic man, Crispin, the Duke of Rydstrom, and a headstrong, beautiful lady, Jacinda Bourne who works at a matrimonial agency with her sisters. The Duke requires a wife with wealth and seeks services from Jacinda's uncle matchmaking agency.
Ms. Lorret's novel has it all, a sexy hero, a strong heroine, an intriguing plot and a sneaky romance to boot! Jacinda seems to have a knack for mishaps but, swoon-worthy Crispin saves her from herself. What a hoot! You will love this latest story from Ms. Lorret, a master storyteller. There are many subplots and fascinating characters that add to the vibrant storyline. HOW TO FORGET A DUKE has plenty of suspense, witty banter, and lots of heart. Simply divine!
Recommended Read!