How to Impress a Marquess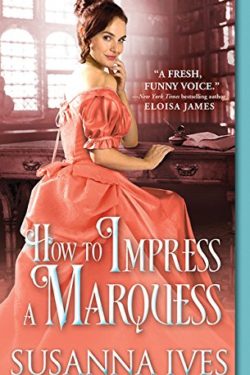 Author

Susanna Ives

Release Date

November 1, 2016

Publisher

Sourcebooks Casablanca

ISBN/ASIN

1402283636

Our Rating

Reviewed by

Dottie
Our Review
As a boy, George, the Marquess of Marylewick, loved to paint and draw, but his father managed to knock that out of him rather early in life, determined to get George ready to take on the title one day. Bullied by his father at home as well as the boys at school, George's life is a misery. So, he becomes a very proper, strait-laced marquess, which makes it hard for him to connect with his cousin Lilith, whose trust fund he handles. At times, he feels that the free-spirited Lilith acts like a grown toddler. George needs to keep an eye on her constantly with her scandalous parties and wild behavior. Between her, his other responsibilities and her constant demands for money from the trust fund, George has his hands full. The only time it seems he gets a chance to escape is in the evenings when he enjoys reading the popular new serial, Colette and the Sultan, which has captivated London. Since he discovered it before anyone els, he almost feels like the story is his. Colette seems so real to him he can almost see her.
At the age of five, Lilith lost her father. Her mother subsequently married George's uncle. Lilith had hopes that her new papa would love her, but he immediately sent her away to school. She was seldom allowed home, and never received the love that her mother showered on her children from her new marriage. So, Lilith felt like she wasn't good enough to be a Maryle and resorted to tantrums and acting out to gain attention. After the death of her parents, Lilith's grandfather, fearing for the unruly eighteen-year-old girl's welfare, set up a trust for her and named George as the trustee. Residing with her paternal cousins, Lilith gives into her craving for writing by secretly penning the most popular serial in London, Colette and the Sultan. Her dealings with George inspire her to model the cruel sultan after him. Between her writing and what trust fund money she can get from George, Lilith seems to barely be getting by, especially since she also supports starving artists. When her cousins suddenly move out and Lilith is evicted, she feels betrayed once more by the people she trusted the most.
Forced to move into George's home, Lilith is stunned when she discovers his artwork, which his sister saved from his childhood. As they spend time together, she begins to see the little boy within George, who is begging to get out, and she begins to fall in love. Will she be able to help release that little boy and get George back to drawing and painting again? Will these two very different people discover that they both want the same thing out of life, and it may just be standing right in front of them?
Feeling pressured to live up to his father's standards and always conscious of being the head of the family, George is compelled to be in control of everything, including his ward's life. But Lilith leads a flamboyant lifestyle and refuses to answer to anyone. However, these two have more in common than they know since both nurse emotional wounds from the past. While George keeps his more deeply hidden than Lilith does, she blames the Maryle family and George, in particular, for how she has been treated. Repelled by her free-spirited attitude and behavior, George does not understand why he desires her so much.
Thrown into each other's company when Lilith is evicted and forced to move in with George while they seek a husband for her, they soon discover how wrong they are in their misconceptions about each other. But it is Lilith who leads the way as she struggles to bring the young boy within George back to life. I enjoyed these characters, but as usual, there is a villain who is despicable. George's stepmother allows her title to go to her head and is absolutely detestable as she fawns on George while constantly looking down her nose at Lilith.
A fun tale, opposites attract tale, HOW TO IMPRESS A MARQUESS, the third book in author Susanna Ives' WICKED LITTLE SECRETS series, is a sweet, yet sensual, historical romance that will make you sigh with heartfelt emotion. This story can easily be read as a standalone, but for additional entertainment, you may want to also pick up the first two books in this series, WICKED LITTLE SECRETS and WICKED, MY LOVE. Meanwhile, I look forward to whatever Ms. Ives come up with next. Recommended for anyone who loves historical romance!